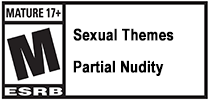 Dodge enemies while gain control of as much area as possible to win! The familiar "capture territory" rules popularized in Japanese arcades are as simple as they are rewarding, and with so many beautiful characters waiting to be uncovered, puzzle action has rarely been more alluring!
Meet more than 20 Pretty Girls across 40 stages! You can choose to partner with Yu or Asahi, and completing stages alongside either will unlock new outfits for them to wear. With each challenge that you clear, commemorative photos of the girls you rescue will also be added to your Gallery for casual viewing. Can you complete them all?
Remove 75% or more of the playfield to clear each stage.
Uncover the girls hidden behind enemy-infested screens.
Dodge menacing creatures and their deadly projectiles!
View unlocked images in the Gallery.
Capture larger zones to score more points!
Platforms:
PS4, PS5, Switch
Release:
04 November 2021
Genre:
Action, Casual, Puzzle
Subtitles:
English, Japanese, Traditional Chinese, Simplified Chinese
Developer:
eastasiasoft, ZOO Corporation
Digital price:
US$5.99 / €5.99
© Eastasiasoft Limited, ZOO Corporation. All Rights Reserved. Character copyright © Norn / Miel. All Rights Reserved.