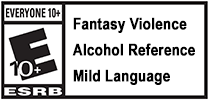 Cursed by his arch-rival, Baldren finds himself warped to Rainbow Moon. And to make things worse, Baldren isn't only stranded in an unknown place; he has also opened a dimensional gate out of which troops of monsters are crawling, turning this once peaceful planet into a real hell. There's only one thing for our brave hero to do: He has to seal the gate and warp himself back to his home planet.
Embark on an epic adventure that leads you through a beautiful, isometric, open world with detailed high-definition visuals. Rainbow Moon is a role-playing game with a strong emphasis on exploration, character development and turn-based battles. Six playable main characters with upgradeable weapons, armor and accessories; about 120 special skills and more than 20 challenging dungeons are awaiting you in a fascinating story that lasts over 40 hours.
Rainbow Moon for Nintendo Switch includes all the latest updates as well as a newly added gameplay features.
Rainbow Moon (Nintendo Switch Edition)
Story mode with about 40 hours of gameplay, extended to more than 100 hours when including all side quests, missions and full character development.

Isometric open world to explore with more than 15 different terrains, such as mountains, snow, desert, grassland, savanna, mud and others.

Sophisticated grid turn-based combat system, featuring a large range of combat and skill commands as well as special attacks and effects.

Unique action and puzzle elements in a variety of over 20 challenging dungeons and 50 quests.

Six playable main characters with upgradable weapons, armors and accessories, allowing hundreds of gear combinations.
Technically perfected game engine, constantly running smoothly at 60 fps with close to no loading times.

Thirty dedicated background music tracks.

Developer:
SideQuest Studios
Digital price:
US$14.99 / €14.99
© Eastasiasoft Limited. All Rights Reserved.