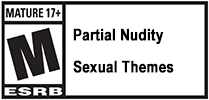 Let the mobile military girls of "Rick G Earth" be your companions as classic tile-matching gets more exhilarating than ever! Find pairs of mahjong tiles to remove them from the board. Plan your moves strategically and stay ahead of the clock to claim victory. Every 3 rounds of play, you'll unlock a new costume for the girls, and more will be revealed as you progress.
Of course, the important part of any solitaire game is replayability. With more than 100 tile layouts and randomized patterns, Bishoujo Battle Mahjong Solitaire offers endless incentive to keep coming back for more, just in case the anime-style fan service isn't reason enough. You can also view unlocked characters and costumes in the Dressing Room!
Bishoujo Battle Mahjong Solitaire
Match tiles and beat the clock to win each exciting round!
Reveal new costumes for each girl.
Discover 2 hidden characters!
View unlocked images in the Dressing Room.
Enjoy unlimited replay value with 100+ layouts and random patterns!
Platforms:
PS4, PS5, Switch
Subtitles:
English, Japanese
Developer:
eastasiasoft, ZOO Corporation
Digital price:
US$5.99 / €5.99
© Eastasiasoft Limited, ZOO Corporation. All Rights Reserved.