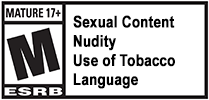 Return to the feel of smokey '90s Japanese arcades as you pull, kick and match blocks to reveal hidden images of the lovely ladies behind each stage! As blocks enter the play field, knock them into marked zones while avoiding and smashing enemies, all as your workspace gets tighter. Aim carefully to boost your score, but don't get boxed in!
Crawlco Block Knockers arrives on Nintendo Switch™ with even more hot content featuring uncensored and "modesty" modes, new character art, additional stages and added localization. With a light-hearted story and plenty of retro neon aesthetics, this is the definitive way to experience Crawlco's unique blend of reveal mechanics and match-3 puzzle action!
Match blocks in marked zones to reveal some very lovely images.
Jump, pull and kick blocks in pixel art style!
Control the naughtiness of your experience with "modesty" settings.
Test your block-slinging skills in elaborate boss battles!
Enjoy light-hearted story and dialogue between stages.
Get in the mood with a future funk soundtrack!
Release:
17 December 2020
Subtitles:
English, French, German, Spanish, Japanese
Developer:
CosmiKankei, eastasiasoft
Digital price:
US$8.99 / €8.99
© Eastasiasoft Limited, CosmiKankei. All Rights Reserved.