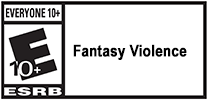 Civilization has fallen and the few remaining survivors are now the playthings of a gang of post-apocalyptic punks called Scorpio. Your little slice of heaven was raided and your loved ones have been carried off to Scorpio's stronghold. With nothing left to lose, you head out onto the open road, armed to the teeth and ready to fight through their territory to bring an end to their reign.
Dead End City is a post-apocalyptic vertical shooter. You drive a heavily armed car called a Chariot into the wastelands to rescue your loved ones from Scorpio, a gang that has conquered what little is left of humanity. Fuel is always draining away, so be careful to collect as much as you can or your journey will come to an abrupt halt. Relive the thrill of '90s arcade classics in top-down shoot'em up style!
Take the wheel and drive hard in vertical shoot'em up action!

Select from 5 heavily armed vehicles, each with a unique driver and shot type.

Collect fuel to keep moving and survive deadly post-apocalyptic roadways!

Top off your gas tank for a boost in firepower and bonus score multipliers.

Enjoy retro pixel art aesthetics inspired by arcade classics of the '90s!

Platforms:
PS4, PS5, Switch, Xbox One, Xbox Series X|S
Genre:
Action, Shoot'em Up
Developer:
eastasiasoft, Pixel Licker
© Eastasiasoft Limited, Pixel Licker LLC. All Rights Reserved.