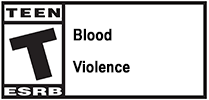 Blinded and trapped inside a labyrinthian dungeon tower, every sound you make illuminates your path to freedom! In EchoBlade, danger lurks around every darkened corner, from trap doors and chambers filled with toxic fumes to halls patrolled by crusader knights and more! Explore in first-person perspective and watch for echo patterns that reveal walls, floors and enemies around you.
Every footstep, every metal clank of armor or swing of a blade illuminates your path with a wave of sonic resonance. Stride with care to avoid pressure plates that spring traps. Each level features new mechanics, secrets to discover and puzzles to solve. Customize your adventuring experience by assigning colors to different kinds of threats and environmental features. Use your wits and every resource at your disposal to defy fate and escape!
Explore an expansive dungeon tower in first-person perspective!

Overcome your blindness by using sound to your advantage.

Defeat menacing foes in real-time hack and slash combat!

Find and wield a variety of melee and ranged weaponry.

Customize sound waves with your preferred color arrangements.

Avoid traps, solve puzzles and find a path to freedom!

Platforms:
PS4, PS5, Switch, Xbox One, Xbox Series X|S
Genre:
Action, Action RPG, Roguelike
Subtitles:
English, French, German, Spanish, Portuguese, Japanese, Traditional Chinese, Korean
Developer:
eastasiasoft, Sunset Arctic Games
Digital price:
US$9.99 / €9.99
© Eastasiasoft Limited, Sunset Arctic Games. All Rights Reserved.