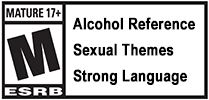 Ikkarus and the Prince of Sin is a yaoi-themed fantasy adventure visual novel where you can manage your daily routine, travel the land, accept side quests, pursue 3 possible romance options, discover 6 unique endings and unlock special CG scenes as you progress. The experience can be further customized by choosing from difficulty settings focused on story or gameplay challenge!
After slaying a dragon, Ikkarus returns to his village and unexpectedly receives ownership of a tavern as his reward. Upon visiting the tavern, he discovers that the place is an utter disaster and has accumulated a shocking debt of 50,000 gold pieces. While this would surely infuriate a lesser recipient, the heroic Ikkarus readily accepts the challenge ahead of him. Now, determined to fix the place up and prove his worth to the man who gave him the tavern, Ikkarus enlists other young men to his cause, and new bonds develop as Ikkarus' party spends their time working at the tavern, making drinks and hunting monsters on the side.
Ikkarus and the Prince of Sin
Enjoy a blend of fantasy adventure and daily life management!

Watch the story unfold in visual novel style with colorful dialogue and memorable characters.

Turn a rundown tavern into a bustling village hotspot!

Choose from 4 difficulty settings to focus on story or challenge.

Discover multiple romance options and alternate endings based on your choices.

Accept quests and hunt monsters in turn-based RPG combat!

Platforms:
PS4, PS5, Switch, Xbox One, Xbox Series X|S
Genre:
Adventure, RPG, Visual Novel
Developer:
eastasiasoft, Witz Games
Digital price:
US$9.99 / €9.99
© Eastasiasoft Limited, Witz Games. All Rights Reserved.