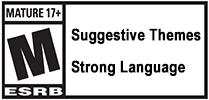 When Bianca's myth-busting father has to go away on a long trip, he asks his daughter to clean the house, especially the attic. But when she does, she finds an old camera and uses it to take lots of pictures wherever she goes. What could be a normal everyday experience turns upside-down when she notices that the pictures reveal spirits from the underworld.
Magic Exposure is a yuri visual novel with loads of unique character portraits, dialogue and backdrops to explore across its narrative about girls' love in a furry fantasy world!
Magic Exposure - Yuri Visual Novel
Follow the tale of unlikely companions in a world of anthropomorphic characters!

Read dialogue and use convenient features to auto-advance, save, load and skip scenes.

Unlock a wide variety of CG scenes as you progress.

Explore themes of girls' romance and the bonds of friendship!

Platforms:
PS4, PS5, Switch
Genre:
Adventure, Visual Novel
Subtitles:
English, Portuguese, Japanese, Traditional Chinese, Simplified Chinese
Developer:
eastasiasoft, Male Doll
Digital price:
US$4.99 / €4.99
© Eastasiasoft Limited, Male Doll. All Rights Reserved.