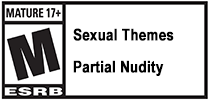 The boys are back for their biggest and boldest entry yet in Otoko Cross: Pretty Boys Dropout! Featuring 45 stages of block puzzler action, Otoko Cross: Pretty Boys Dropout! brings together a cast of 9 crossdressing "otokonoko" characters, each with their own backstories to discover and a wardrobe of increasingly sexy outfits to unlock.
Slide blocks left and right to match groups of a single color and clear them to drop character icons towards exits at the bottom of the screen. Some exits need to be unlocked before they can be used, and new block mechanics will be gradually introduced as difficulty ramps up! There's also a challenge mode to keep you coming back for more quality time with the cute cast! Use the points you earn to unlock outfits and backdrops in any order you like, then assemble them into your own custom dioramas in the enhanced Dressing Room mode.
Otoko Cross: Pretty Boys Dropout!
Platforms:
PC, PS4, PS5, Switch
Release:
25 May 2023 (Steam) / 01 September 2023 (consoles)
Genre:
Action, Casual, Puzzle
Subtitles:
English, Japanese, Traditional Chinese, Simplified Chinese
Digital price:
US$6.99 / €6.99
Otoko Cross © Eastasiasoft Limited. All rights reserved.