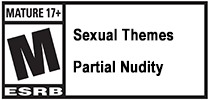 In the latest installment of the Pretty Girls Mahjong Solitaire series, 5 new female companions with animal features will challenge you to a classic game of tile-matching. Select pairs of tiles to make them disappear, but be careful to stay ahead of the clock! Plan your moves strategically so you don't hit a dead end. For every third round you clear, you'll unlock new outfits for your lovely companions, all of which can be viewed in a naughty Dressing Room mode.
Every time you play, tiles are shuffled to keep each session fun and unpredictable. For a more casual experience, switch to Easy mode to disable the clock and take advantage of hints and shuffle assists. With more than 60 layouts and randomized patterns, there's always a reason to come back for more tile-matching and quality time with these adorable animal girls!
Pretty Girls Mahjong Solitaire - Green
Match tiles and beat the clock to clear each round.
Reveal new costumes as you progress!
Meet 5 girls, all voiced in Japanese.
View unlocked characters and outfits.
Enjoy unlimited replay value with more than 60 tile patterns!
Platforms:
PS4, PS5, Switch
Release:
02 December 2021
Genre:
Board, Casual, Puzzle
Subtitles:
English, Japanese, Traditional Chinese, Simplified Chinese
Developer:
eastasiasoft, ZOO Corporation
Digital price:
US$5.99 / €5.99
© Eastasiasoft Limited, ZOO Corporation. All Rights Reserved. Character copyright © Norn / Miel. All Rights Reserved.