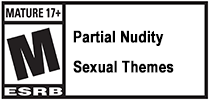 Socially conservative sea creatures have constructed a water-filled screen to hide the Pretty Girls from view. Don't panic! Use your special tool to capture sections of the barrier and remove them, exposing the girl waiting for you on the other side. Girls will gradually disrobe from stage to stage to reward your success. Just don't get caught – if a sea creature crosses your path, your tool will be broken!
Meet 13 Pretty Girls across 50 stages! With each challenge you clear, commemorative photos will be added to your Gallery for casual viewing. Can you complete them all?
Uncover the girls hidden behind water-filled screens.
Remove 75% or more of the barrier to clear each stage.
Dodge sea creatures that try to break your tools!
View unlocked images in the Gallery.
Capture larger zones to score more points!
Platforms:
PS4, PS5, Switch
Subtitles:
English, Japanese
Developer:
eastasiasoft, ZOO Corporation
Digital price:
US$5.99 / €5.99
© Eastasiasoft Limited, ZOO Corporation. All Rights Reserved. Character copyright © Norn / Miel. All Rights Reserved.