The twin-stick cyberpunk rogue-lite Leap of Fate from Canadian developer Clever Plays is the next title to join our Asia PS4 release lineup.
In this alternate version of New York city, where deranged cultists and dangerous cyborgs hide in dark alleys, you must choose among four characters with unique playstyles. Will you be Aeon, the shadow mage, who dashes through his enemies with dark magic? Or will you prefer Big Mo, the cyborg technomancer, who has a laser cannon for an arm? Or maybe Mukai, the spirit-channeler, who wields deadly entities as melee attacks? Or last, but not least, will you dare play Rasimov, the powerful blood mage who must sacrifice his own life essence to grow his magical abilities? The choice is yours. And with randomness sprinkled throughout every aspect of the game, from mission selection down to the skill tree itself, each player's experience will be unique!
Watch the Leap of Fate trailer: https://www.youtube.com/watch?v=xeWXNdOhw7E
Leap of Fate will launch digitally on the PlayStation®Store in Asia on September 14th for US$9.99 / HK$78 / TW$312. The physical release of Leap of Fate will be available in limited quantities on September 13th from online retailer Play-Asia.com at US$34.99 including shipping.
The Leap of Fate Limited Edition will contain the following items:
A physical copy of the game (region free)
Full-color printed manual
An original soundtrack CD
An individually numbered collector's certificate (1200pcs)
A collector's box (with a beautifully embossed logo)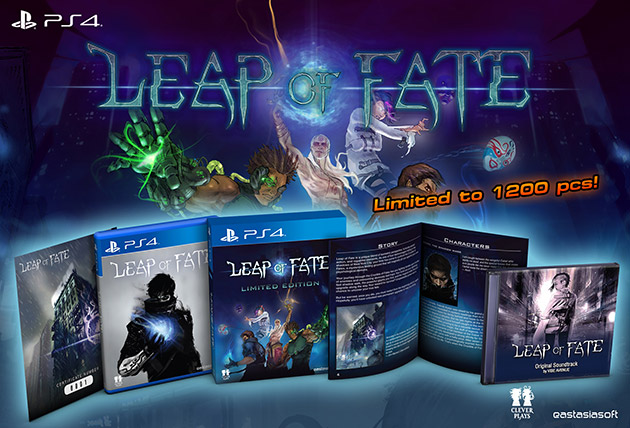 Leap of Fate has been localized for the Asian market and is playable in English, Chinese (traditional & simplified) and Japanese. Further supported languages include French, Spanish, German, Portuguese, Italian, Russian, Turkish and Hungarian.
For more information, visit Leap of Fate's official website.
About Leap of Fate:
Leap of Fate is a unique blend of isometric perspective, furiously-paced action, and roguelike elements. As one of four technomages hiding in the shadows of New York City, your time has come to confront the Crucible of Fates, a mysterious testing ground that will magically pit you against your own psychological demons. Your journey through the Crucible has you fighting hordes upon hordes of enemies and overcoming deviously laid traps. Your tools are your lightning-fast shadow walk, the powerful glyphs you find, and the magical skills that you upgrade along the way. Your reward for survival? Unspeakable power and a chance to uncover your true fate.
Features:
Experience an extremely fast and satisfying action game, built around the ability to Shadow Walk
Upgrade over a hundred magical skills, through an innovative system of randomly-generated skill trees
Discover the profound and intense stories of four characters, told through beautifully illustrated cinematics
Explore a modern-day cyberpunk fantasy spanning cybernetics labs, dark alleys and secret societies