In partnership with JanduSoft and Boomfire Games, we are excited to announce that the colorful action platformer Furwind will join the eastasiasoft Limited Edition line-up in summer 2019.
Furwind has players control a cute pixel fox as he explores a retro-inspired world full of dangerous platforms and ghoulish foes. Power yourself up to reach secret locations, heal your wounds, and blast large bosses and their minions!
Watch the Furwind trailer:
The physical release of Furwind will be available for PlayStation 4 and PlayStation Vita, limited to just 1000 units for PS4, and 1500 units for PS Vita. Pre-orders will be available on April 11th, from online retailer Playasia at US$34.99 including free international shipping.
The Furwind Limited Edition will contain:
A physical copy of the game (region free)
A full-color printed manual
An original soundtrack CD
An individually numbered collector's certificate
A collector's box (with a beautifully embossed logo)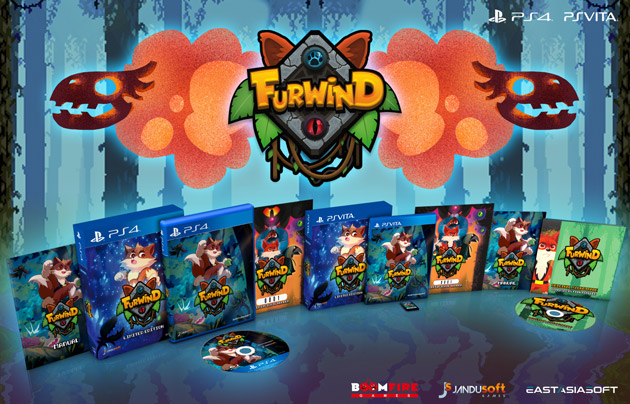 Furthermore, eastasiasoft will publish Furwind for PS4™ & PS Vita digitally in Asia and Japan region, and for the Nintendo Switch in Japan. JanduSoft will handle digital publishing in North America and Europe. Further details will be revealed shortly.
Furwind is playable in English, Japanese, Traditional Chinese, Korean, and Spanish.
About Furwind
Furwind is a colorful, pixel art style, action-platformer game that evokes the challenging classics of the gaming days of past. Embark on this epic adventure in which a little fox will fight the ominous darkness that is invading its homeland.
Features:
Guide a little fox in his adventure to defeat forces that are devastating the Forest.
Complete the different episodes, exploring levels full of life and color with a unique pixel art style.
Navigate dangerous areas, filled with traps and risky characters!
Use your powers to reach inaccessible places, heal your wounds, and bring destruction to your enemies.
Enjoy an inspiring OST with ambient and atmospherics sound effects that bring life to the world you're exploring.