We are pleased to announce that we will launch the innovative boxing adventure Pato Box in Asia in Q2/2019. Pato Box will be available digitally (PS4/PS Vita) and as limited retail release (Switch/PS Vita). Limited Edition pre-orders will open on March 7th at online retailer Playasia.
Inspired by the "Punch-Out!!" series, you play as Patobox, a boxing champion with a special distinction of having a duck's head on a man's body. You have been betrayed by members of Deathflock, the same company that has been sponsoring you during your career. Find retribution by hunting down Deathflock's henchmen while discovering the dark secrets the company hides and the truth behind his treason one fight at a time.
The Pato Box Limited Edition will contain:
A physical copy of the game (region free)
A full-color printed manual
An original double-disc soundtrack CD
An individually numbered collector's certificate
A collector's box (with a beautifully embossed logo)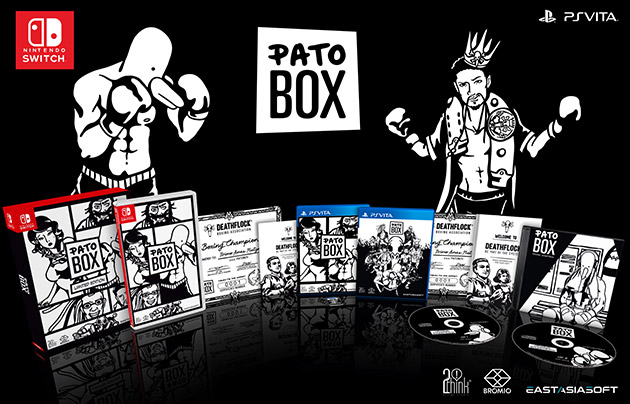 Pato Box for PS4™ and PS Vita will be available digitally on the PlayStation Store in Asia on April 19th. The PS Vita Limited Edition is expected to ship in April, followed by the Nintendo Switch release in Q2/2019. Pato Box is playable in English, Traditional Chinese, and Spanish.
About Pato Box
A surreal boxing quest with a duck!
Test your reflexes as you fight your way through an evil corporation in search for retribution. Uncover their deepest secrets by exploring thrilling 3d environments with a graphic novel/comic book art style. Find the henchmen who took your dream away in an action-packed and fast-paced fights that will test you to the limit as a true boxing champion!
Will you chicken out or learn how to DUCK?
Features:
Find the truth on Story Mode, a single player adventure filled with surprises.
Fight your way through Arcade Mode, defeat all the bosses as fast as possible.
Challenging and surreal 2D fights with a comic book art style.
Innovative visual proposal, inspired by graphic novels and comics.
Explore a world full of traps and mini games.
Ducks... a lot of ducks!