We've partnered with independent developer Lillymo Games to bring Habroxia 2 to PS4, PS Vita, Nintendo Switch, Xbox One and PC/Steam in February 2021! As the follow-up to 2019's space-faring retro style shoot'em up Habroxia, this all-new entry doubles down on gameplay features and a riveting story.
In the aftermath of a brutal attack on Free Space, humanity sends scout ships to the star system that was at the source of the assault. But when one of the pilots doesn't return home, it's up to his daughter -- the talented starpilot Sabrina -- to find him. Habroxia 2 is a non-linear, old-school space shooter with upgrades, boss fights, and even New Game+, all wrapped in a retro package combining pixel graphics, chiptunes and stellar gameplay.
Along with even more customizable ship upgrades and challenging boss battles, Habroxia 2 will also feature a revamped twin-stick control scheme and branching stages. Gameplay shifts dynamically between side-scrolling and vertical segments, wrapping the best elements of both shoot'em up styles into one intense and addictive experience, all set to an enhanced retro-inspired soundtrack!
In addition to the upcoming digital release, physical preorders for both PS4 and PS Vita will open with Playasia at 11pm Hong Kong (10am ET / 4pm UK). These Limited Editions will each include the game, manual, soundtrack CD and numbered certificate in a collector's box, priced at US$34.99 + shipping. Open preorders will remain live for 4 weeks. At the same time, physical PS Vita Limited Editions for graphic adventure My Aunt is a Witch will also be available for preorder from Playasia.
https://www.play-asia.com/exclusives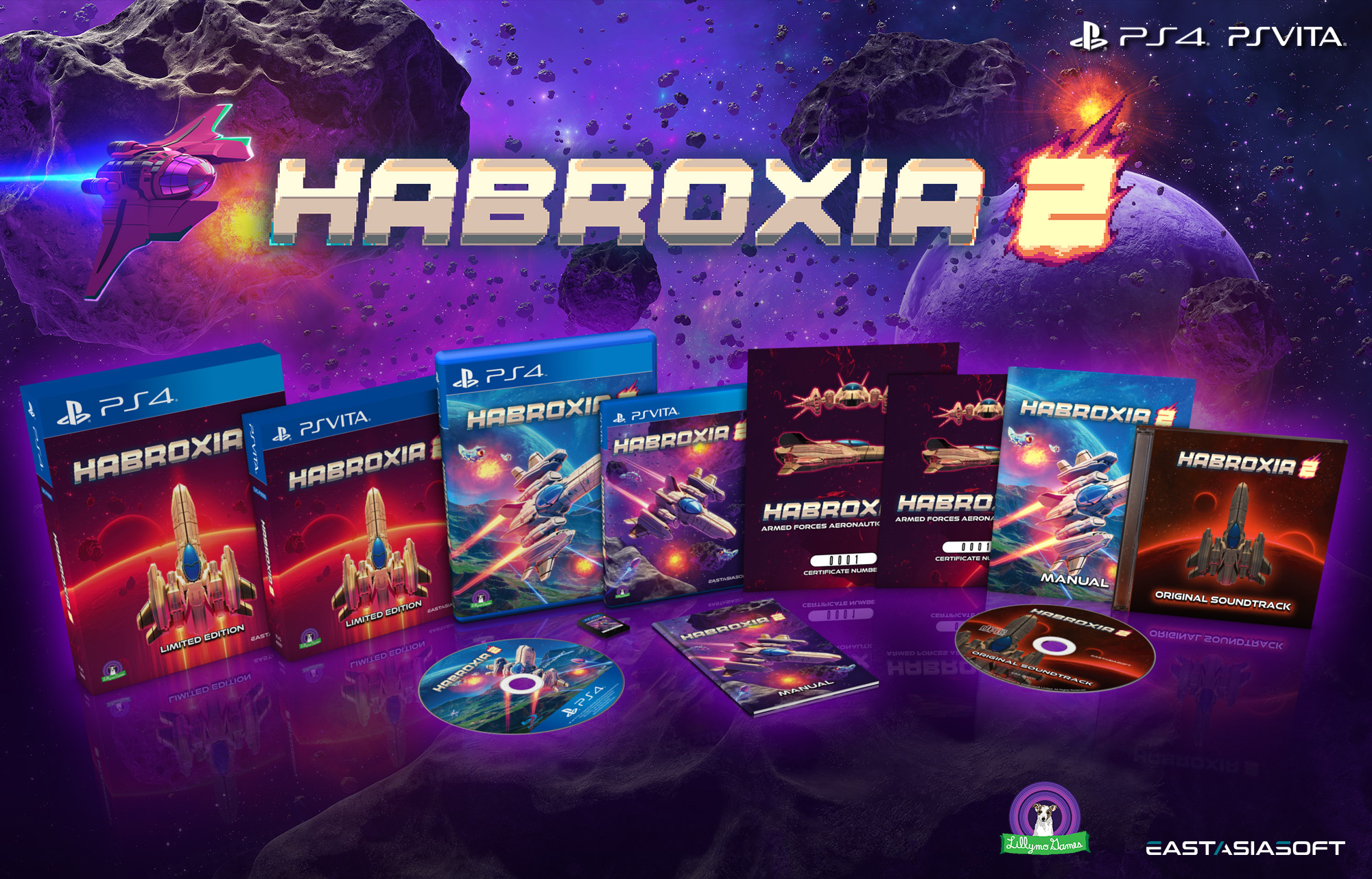 Habroxia 2 will be published on PS4 and PS Vita by Lillymo Games. It is being ported and published on Nintendo Switch, Xbox One and PC/Steam by eastasiasoft.
Alongside this announcement comes the exciting news that the original Habroxia is being ported for Xbox One by eastasiasoft and is set to launch on December 2nd, 2020! This version will feature visual enhancements and an exclusive Boss Rush mode. It will be regularly priced at US$7.99/€7.99, with an additional 20% discount available for 2 weeks following the digital release.