For Immediate Release
Hong Kong - May 11, 2018 – Eastasiasoft Limited, the independent developer and publisher of interactive entertainment, is excited to launch the 2D action adventure Reverie from New Zealand-based studio Rainbite Limited in Asia on May 18. Reverie will be available for the PlayStation®4 computer entertainment system and PlayStation®Vita handheld entertainment system.
Inspired by various 16-bit action adventure classics of the 90s and set on a fictional island in New Zealand, Reverie combines beautiful retro-style pixel art with well-thought-out gameplay. Players take on the role of Tai, a young boy on summer holiday who is exploring Toromi Island. With angry spirits threatening the safety of the island's inhabitants, Tai must venture through dangerous dungeons and across a variety of environments to put the spirits to rest.
Reverie will launch digitally on the PlayStation®Store in Asia for US$12.99 / HKD 102 / TWD 398 / KRW 15400 on May 18. The game has been localized for the Asian market and is playable in Traditional Chinese, Korean, Japanese and English. A physical Limited Edition will be available exclusively at online retailer Play-Asia.com for US$34.99 including shipping.
Limited to just 3000pcs per platform, the Reverie Limited Edition contains the following items:
A physical copy of the game (region free)
An original soundtrack CD
A sticker booklet
A full-color printed manual
A Reverie world map
An individually numbered collector's certificate
A collector's box (with a beautifully embossed logo)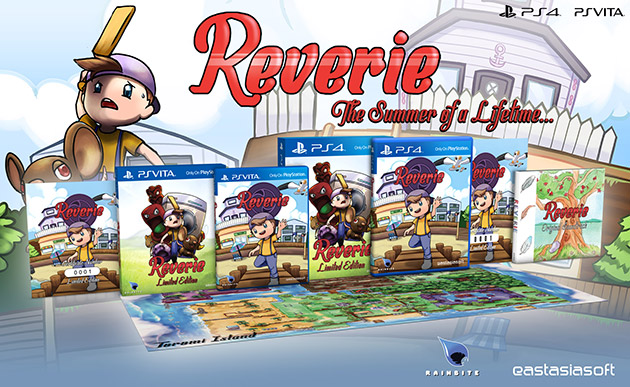 The Reverie release trailer can be viewed here. Further information on Reverie can be found on the game's official website and in the press kit. The developers can be reached on Twitter @rainbite.
About Reverie
DESTINY CALLS THE LEAST LIKELY OF HEROES
Save an island in peril on a childhood holiday.
With restless spirits threatening the safety of Toromi Island's inhabitants, Tai must venture through dangerous dungeons and across a variety of environments to put the spirits to rest. All in a summer holiday!
Reverie is an action adventure game set on a fictional island in New Zealand, inspired by the legend of Maui and the Giant Fish where the demigod himself fishes up the North Island with a powerful fishhook.
Features:
Six dungeons to fight and puzzle your way through.
Use unique weapons and items to solve puzzles and defeat menacing bosses.
Explore varied environments and find the secrets of Toromi Island.
Collect hidden feathers from New Zealand's many beautiful native birds.
Story inspired by a Maori legend.
About eastasiasoft
Eastasiasoft Limited is an independent, Hong Kong–based developer and publisher of interactive entertainment specializing in video games and related media. Founded in 2007, eastasiasoft has published a diverse variety of titles in digital and physical format. Eastasiasoft is a licensed PlayStation, Nintendo Switch and Xbox One publisher. Some of eastasiasoft's recently licensed and published games are Ghost Blade HD, Reverie, Rainbow Moon and the Söldner-X franchise.
About Rainbite
Rainbite Limited is an independent game development studio based in Auckland, New Zealand. Rainbite are a small, dedicated team pushing to build high quality games with a focused scope.
About Play-Asia.com
Play-Asia.com was established in 2002 and is the leading independent retailer, providing outstanding customer experience, large variety of genuine products and global fulfillment.
For media queries, contact eastasiasoft public relations at press@eastasiasoft.com or via Twitter at @eastasiasoft.
###