For Immediate Release
Hong Kong - April 4, 2018 – Eastasiasoft Limited, the independent developer and publisher of interactive entertainment, is excited to launch the PlayStation®Vita exclusive 2D platformer Sir Eatsalot from the German developer Behind the Stone on the PlayStation®Store in Asia on April 6.
You are the righteous and corpulent Sir Eatsalot. Sally forth on an epic quest to track down Hysterica, a mean old sorceress who has poisoned Gluttington Kingdom with sour lemonade and put an end to her shenanigans in this mouthwatering adventure platformer.
Sir Eatsalot takes full advantage of the PS Vita's hardware features, including touch screen, rear touchpad, camera and gyro sensor support. Players can look forward to a comical voyage through a cartoonish world with funky characters and a detailed level design with beautifully hand-drawn graphics.
Sir Eatsalot will launch digitally on the PlayStation®Store in Asia for US$11.99 / HKD 94 / TWD 368 / KRW 14200 on April 6. The game has been localized for the Asian market and is playable in Traditional Chinese, Korean, Japanese and English. A physical Limited Edition is currently on pre-order at online retailer Play-Asia.com for US$34.99 including shipping.
Limited to just 2000pcs, the Sir Eatsalot Limited Edition contains the following items:
A physical copy of the game (region free)
An original soundtrack CD
A sticker booklet
A 64-pages art book
An individually numbered collector's certificate
A collector's box (with a beautifully embossed logo)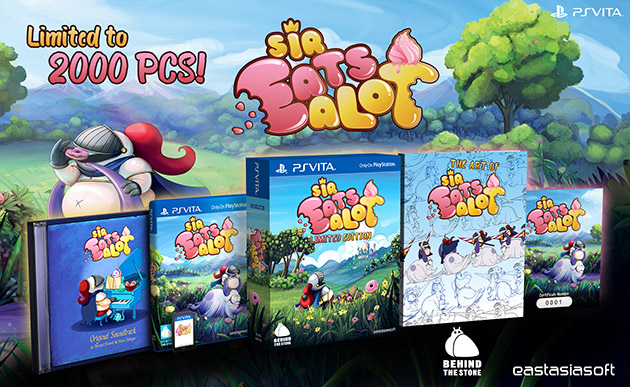 The Sir Eatsalot release trailer can be viewed here. Further information on Sir Eatsalot can be found on the game's official website and in the press kit.
About Sir Eatsalot
The kingdom of Gluttington was at peace... until one day, Hysterica poisoned the Isotonic Waters with sour lemonade. That evil witch! The kingdom's crops are withering, but this plague has yet to befall all the lands. There is still hope! King Dietan III dispatches his greatest, bravest, stoutest knight to save the kingdom from certain ruin: Sir Eatsalot.
Explore a colorful world full of kooky characters, solve gripping puzzles, and make the most of your PlayStation Vita's hardware features to interact directly with the game world around you.
Features:
Interactive and varied gameplay through full use of different hardware features
Humorous adventure in a silly cartoon world full of sweets and other delectables
Immersive and detailed level design with hand-drawn graphics
Interact with the game world to discover more quirky characters
Collect over 20 stickers to learn more about the world of Sir Eatsalot
About eastasiasoft
Eastasiasoft Limited is an independent, Hong Kong–based developer and publisher of interactive entertainment specializing in video games and related media. Founded in 2007, eastasiasoft has published a diverse variety of titles in digital and physical format. Eastasiasoft is a licensed PlayStation, Nintendo Switch and Xbox One publisher. Some of eastasiasoft's recently licensed and published games are Ghost Blade HD, Reverie, Rainbow Moon and the Söldner-X franchise.
About Behind The Stone
The Hamburg (Germany) based indie studio consists in its core of Slawa Deisling and Monika Rider, who came into contact with videogames during their early childhood. The studio's motto is to create games that people don't just want to play, but also experience. Behind the Stone creates games with a lot of passion and love for detail. Sir Eatsalot will be Behind the Stone's first commercial release.
About Play-Asia.com
Play-Asia.com was established in 2002 and is the leading independent retailer, providing outstanding customer experience, large variety of genuine products and global fulfillment.
For media queries, contact eastasiasoft public relations at press@eastasiasoft.com or via Twitter at @eastasiasoft.
###