We are excited to announce that the we will launch the satirical first-person shooter Shadow of Loot Box digitally in Asia and Japan on June 27th (Nintendo Switch) and June 28th (PS4). Shadow of Loot Box will also be available as physical Limited Edition at online retailer Playasia on June 27th.
Shadow of Loot Box is a first-person shooter about micropayments, loot boxes, cut content and everything we "love" in modern video games. If you always thought that there were too few loot boxes in other games, this game is for you!
Shadow of Loot Box is an attempt to present what video games can become in the near future. Each level of this shooter is a reference to a popular trend in the modern game development industry. Will you be able to overcome the thorny path full of microtransactions, loot boxes and bugs, resisting the temptation to use the in-game store?
Watch the trailer:
The physical release of the Shadow of Loot Box will be available in limited quantities for PS4 at online retailer Playasia on June 27th. Only 1000pcs will be manufactured.
The Shadow of Loot Box Limited Edition for PS4 will contain:
A physical copy of the game (region free)
A full-color printed manual
A Loot Box Toy Brick Set (265pcs / nano size)
An individually numbered collector's certificate
A collector's box (with a beautifully embossed logo)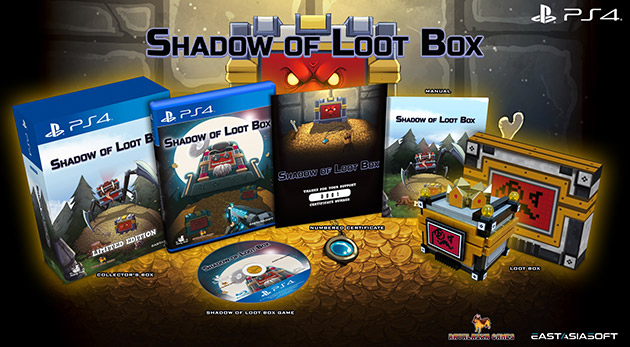 Shadow of Loot Box has been localized for the Asian market and is playable in English, Trad. Chinese, Japanese and Korean. Further supported languages include French, German, Spanish and Russian.