For Immediate Release
Hong Kong - October 25, 2017 – Eastasiasoft Limited, the independent developer and publisher of interactive entertainment, is excited to announce their continued collaboration with Spanish publisher Abylight Studios and developer Locomalito to bring the 2D arcade action platformer Cursed Castilla to the PlayStation®Vita handheld entertainment system in November 2017.
Inspired by medieval myths from Spain and the rest of Europe, Cursed Castilla is a love letter to classic action arcade games from the '80s and '90s. Players can expect a perfectly balanced platform experience, with 8 different stages, more than 48 enemy types, 19 final bosses and 4 different endings.
Cursed Castilla will launch digitally on the PlayStation®Store in Asia on November 9 for US$11.99 / HK$ 94 / TW$ 381 / KRW 14900 and will also be available exclusively at online retailer Play-Asia.com as a physical Limited Edition, with only 4,000 copies available worldwide, for US$34.99. The Limited Edition will contain the following items:
A physical copy of the game (region free)
A full color instruction booklet (20 pages)
An official soundtrack CD (56 tracks/70 minutes)
A 'Making of' photo book by Locomalito and Gryzor87 (32 pages)
An individually numbered collector's certificate
A collector's box (with a beautifully embossed logo)


Reservations for the Limited Edition will open at Play-Asia.com on November 1, 2017. Cursed Castilla is the third release in the PS Vita Limited Edition series, which is published by eastasiasoft and available at Play-Asia.com.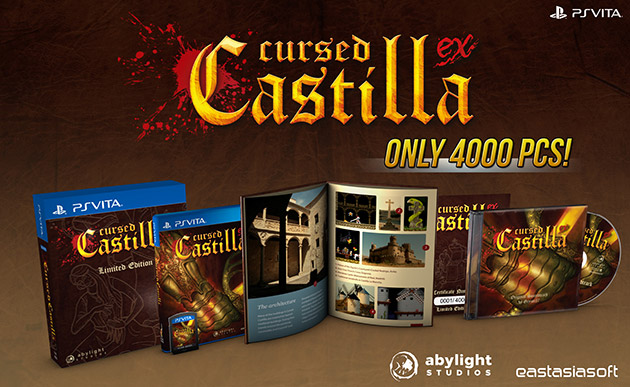 Further information on Cursed Castilla can be found on the game's official website and in the press kit.
About Cursed Castilla
Cursed Castilla is an arcade action platformer full of creatures from medieval myths from Spain and the rest of Europe.
The tears of a young witch have been turned by a demon into a key that opens up a gateway for the evil in this world. The King Alfonso VI of León has gathered his loyal knights to get to Tolomera del Rey and finish the nightmare using the power of the Witch's tears. Banish the zombies and demons that entered the Kingdom of Castile with Don Ramiro, the loyal King's Knight, and his friends. For that, you will use a different range of weapons to defeat your enemies through the cursed lands of Tolomera, in a pure classic arcade action style.
Features:
Explore Tolomera del Rey in depth through to 8 game stages
Fight against 48+ types of enemies and 19 final bosses
Banish the evil invading the Kingdom with 4 different endings
Become a seasoned monster hunter with the illustrated bestiary with unlockable information about the legends featured in the game
Brag about your combat skills with 16 unlockable trophies
Yell your battle cry with songs for the original soundtrack and the remastered audio
Revive the glory of the arcade times with 10 different screen view modes
About eastasiasoft
Eastasiasoft Limited is an independent, Hong Kong–based developer and publisher of interactive entertainment specializing in video games and related media. Founded in 2007, eastasiasoft has worked on and published titles such as Rainbow Skies, Rainbow Moon, Lost Sea, and the Söldner-X franchise.
About Abylight Studios
Abylight Studios is a digital entertainment company based in Barcelona. Initially focused on Nintendo platforms and smartphones, since 2015 Abylight strives for platform diversity and includes independent creators in its catalog. Their most recent project is Super Hydorah, a nonlinear shoot' em up that sublimates the wisdom and richness of traditional shmup classics. For more information on Abylight Studios, visit their official website, Facebook, and follow @abylight on Twitter.
About Locomalito
Locomalito shares background with many other kids from the 80s: he grew up playing arcade machines and dreaming about creating his own games. He had ideas and wanted to work on them with a passion. Years later, this vocation drove him to work on those ideas and shape them in his own spare time. His goal: creating video games with an old-school flavor – adventures that you could play on a straight run, created with pixel-art and chiptune music and sound. For more information on Locomalito, visit their official website, and follow @Locomalito on Twitter.
About Play-Asia.com
Play-Asia.com was established in 2002 and is the leading independent retailer, providing outstanding customer experience, large variety of genuine products and global fulfillment.
For media queries, contact eastasiasoft public relations at press@eastasiasoft.com or via Twitter at @eastasiasoft.
###