For Immediate Release
Hong Kong - August 29, 2017 – Eastasiasoft Limited has announced RIVE as the newest addition to eastasiasoft's PlayStation®4 Limited Edition lineup. RIVE is an action-packed shooter and platformer hybrid from veteran developer Two Tribes that is full of content and challenges for players to dive into.
Prepare for a dance of destruction as RIVE takes players on an explosive journey on land, underwater, on a moving train, and even in zero gravity. RIVE features a 6+ hour campaign, voiced by Mark Dodson (Star Wars & Gremlins). RIVE also contains other addictive game modes, including challenges, battle arenas, speedrun, and single-credit mode. Compare high scores with your friends, or against the world, by uploading your scores to the online leaderboards!
RIVE is playable in more than 10 different languages, including English, French, German, Spanish, Italian, Portuguese, Japanese, Chinese and Korean. The RIVE Limited Edition for PS4™ will be available for pre-order exclusively at Play-Asia.com for US$29.99 as two separate editions: the Blue Box (limited to 1,500 copies) & the Orange Box (limited to 1,000 copies).
Each RIVE Limited Edition box set contains the following items:
A physical copy of the game (region free)
A full color instruction booklet (20 pages)
A double-disc soundtrack CD (40 tracks / 106 minutes)
An individually numbered collector's certificate
A collector's box (with a beautifully embossed logo)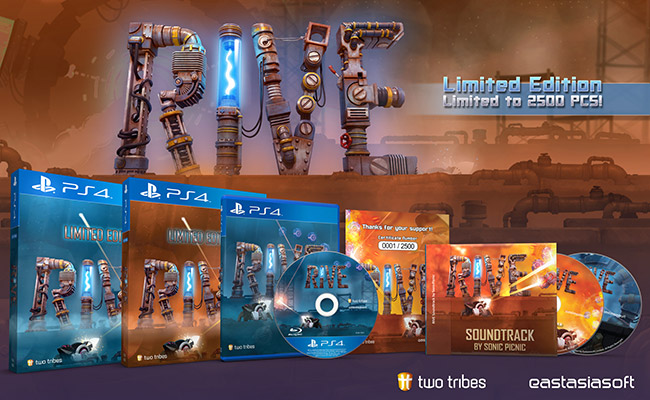 RIVE's trailer can be viewed here. Further information on RIVE can be found on the game's official website and in the full press kit.
About RIVE
RIVE is the metal wrecking, robot hacking shooter you've been waiting for! This 360-degree shooter/platformer hybrid lets you choreograph a 'dance of destruction' in insanely spectacular battles and set-pieces. RIVE feels like the explosive games of yore, pumping megapixels in true 21st century style.
ABOUT HACKING:
Ever dreamed of controlling your enemies? In RIVE you can. Find the hacks and get those gun turrets, nurse drones and irritable smashbots on your side. Or kickstart and hitch a ride on top of a bullet train!
ABOUT THE STORY:
When space scavenger Roughshot gets trapped on a mysterious starship, he has to form a surprising alliance. Don't care about the story? Just shoot the messenger. Literally.
Features:
Endless variety: fight on land, underwater, in zero gravity or on a moving train!
Gather hacks and control your enemies.
Upgrade your spider tank's special attacks, armor and loot magnet.
A 6+ hour campaign, voiced by Mark Dodson (Star Wars & Gremlins).
A deep story featuring our hero Roughshot, robot butlers, space loot and... clean teeth.
Prove your mettle in the extra Speedrun and Single-Credit modes.
Dozens of on-line leaderboards to compete in.
Keep playing with the daily Challenges and infinite Battle Arenas.
About eastasiasoft
Eastasiasoft Limited is an independent, Hong Kong–based developer and publisher of interactive entertainment specializing in video games and related media. Founded in 2007, eastasiasoft has worked on and published titles such as Rainbow Skies, Rainbow Moon, Lost Sea, and the Söldner-X franchise.
About Two Tribes
Two Tribes is one of the oldest game developers in the Netherlands, creating original gaming experiences that respect old school values while leveraging new technologies. Instead of pixel art and chiptunes, Two Tribes delivers tight gameplay and a polished presentation. Two Tribes' portfolio includes a number of highly acclaimed titles such as the Toki Tori franchise, EDGE, and RUSH.
About Play-Asia.com
Play-Asia.com was established in 2002 and is the leading independent retailer, providing outstanding customer experience, large variety of genuine products and global fulfillment.
For media queries, contact eastasiasoft public relations at press@eastasiasoft.com or via Twitter at @eastasiasoft.
###