Definitive version offers numerous improvements & updates

Hong Kong - December 9, 2019 – Independent developer and publisher, Eastasiasoft Limited, today announced that the critically acclaimed 2D action platformer Gunlord X from developer NGDEV will be available digitally for PlayStation®4 this month in North America and Europe.
Gunlord X features stunning pixel art with beautiful parallax scrolling and a pumping soundtrack. Players can look forward to 11 open-world stages, filled with more than 60 unique creatures, huge boss battles and lots of secrets.
New enhancements and audio-visual updates as well as gameplay features, including updated levels, new boss enemies, new game+ feature, added music tracks, fully customizable controls, and more make Gunlord X the definitive version of this unforgettable retro masterpiece.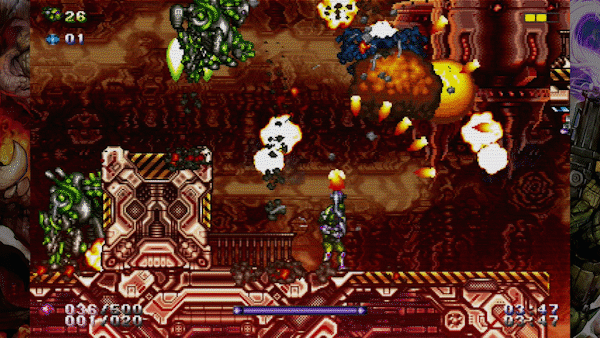 Gunlord X will be available on December 10th in North America and December 11th in Europe for US$9.99 and €9.99.
For more information on Gunlord X, visit:
About Gunlord X
Save mankind from the evil Lords of Steel that are threatening the galaxy!
Gunlord X is a 2D action platformer with open-world stage design, a wide variety of enemy creatures, massive boss battles and a high-powered soundtrack. Blast your way through sprawling landscapes, explore caverns and reveal secrets in retro-inspired style. Enjoy the definitive version of this pixel art masterpiece with tons of new features and updates.
Features:
Jump, shoot and explore!
Discover 11 stages with lots of secrets
Blast through evil creatures & huge bosses
Enjoy stunning pixel art with gorgeous parallax scrolling
Master your weapons with fully customizable controls
Play the definitive version with tons of new features & updates
About eastasiasoft
Eastasiasoft Limited is an independent, Hong Kong–based developer and publisher of interactive entertainment specializing in video games and related media. Founded in 2007, eastasiasoft has published a diverse variety of titles in digital and physical format. Eastasiasoft is a licensed PlayStation, Nintendo Switch and Xbox One publisher. Some of eastasiasoft's recently licensed and published games are Ghost Blade HD, Rainbow Skies, Sword & Fairy 6, Reverie, Rainbow Moon, and the Söldner-X franchise.
About NGDEV
NGDEV is a 2D indie game developer founded in 2001, by brothers Timm Hellwig and René Hellwig, who specialize in developing arcade games. The studio is known for games including Last Hope, Last Hope: Pink Bullets, Gunlord, NEO XYX, RAZION, Fast Striker and Kraut Buster.
For media queries, contact eastasiasoft public relations at press@eastasiasoft.com or via Twitter at @eastasiasoft.
###