Physical Limited Edition Available for Pre-order on December 12th

Hong Kong - December 9, 2019 – Independent developer and publisher, Eastasiasoft Limited, today announced that the critically acclaimed trinity mechanic shoot'em up Pawarumi from French developer Manufacture 43 will land on PlayStation®4 in February 2020. A physical Limited Edition will be available for pre-order at online retailer Playasia on December 12, 2019.
Best described as rock-paper-scissors with lasers, Pawarumi is a vertical shoot'em up set in a 3D futuristic, yet pre-Columbian inspired universe. In the game, players utilize a powerful mechanic called the Trinity. With this the three basic weapons are controlled by colored divinities - Condor (laser) is blue, Serpent (gatling gun) is green and Jaguar (missiles) is red.
Each enemy in the game is powered by the same divinities. If players target them with any color, one of the three bonuses of the Trinity comes into effect - Boost, Drain or Crush - depending on the color combination. Mastering them opens up countless tactical possibilities.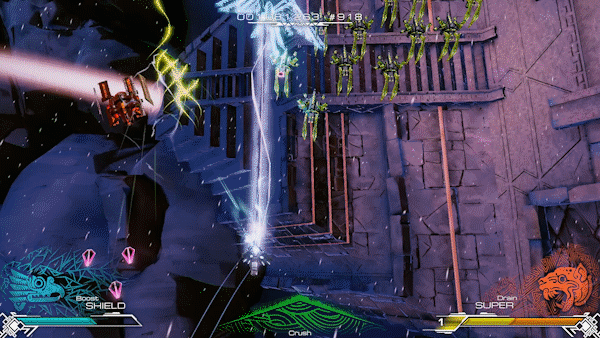 The PS4™ edition of Pawarumi runs at super smooth 60fps and features online leaderboards.
Limited to just 2000 copies worldwide, the Pawarumi Limited Edition for PS4™ will be available for pre-order on December 12th from online retailer Playasia. Each Limited Edition copy will include the following items:
A physical copy of the game (region free)
A full-color printed manual
An original soundtrack CD
An individually numbered collector's certificate
A collector's box (with a beautifully embossed logo)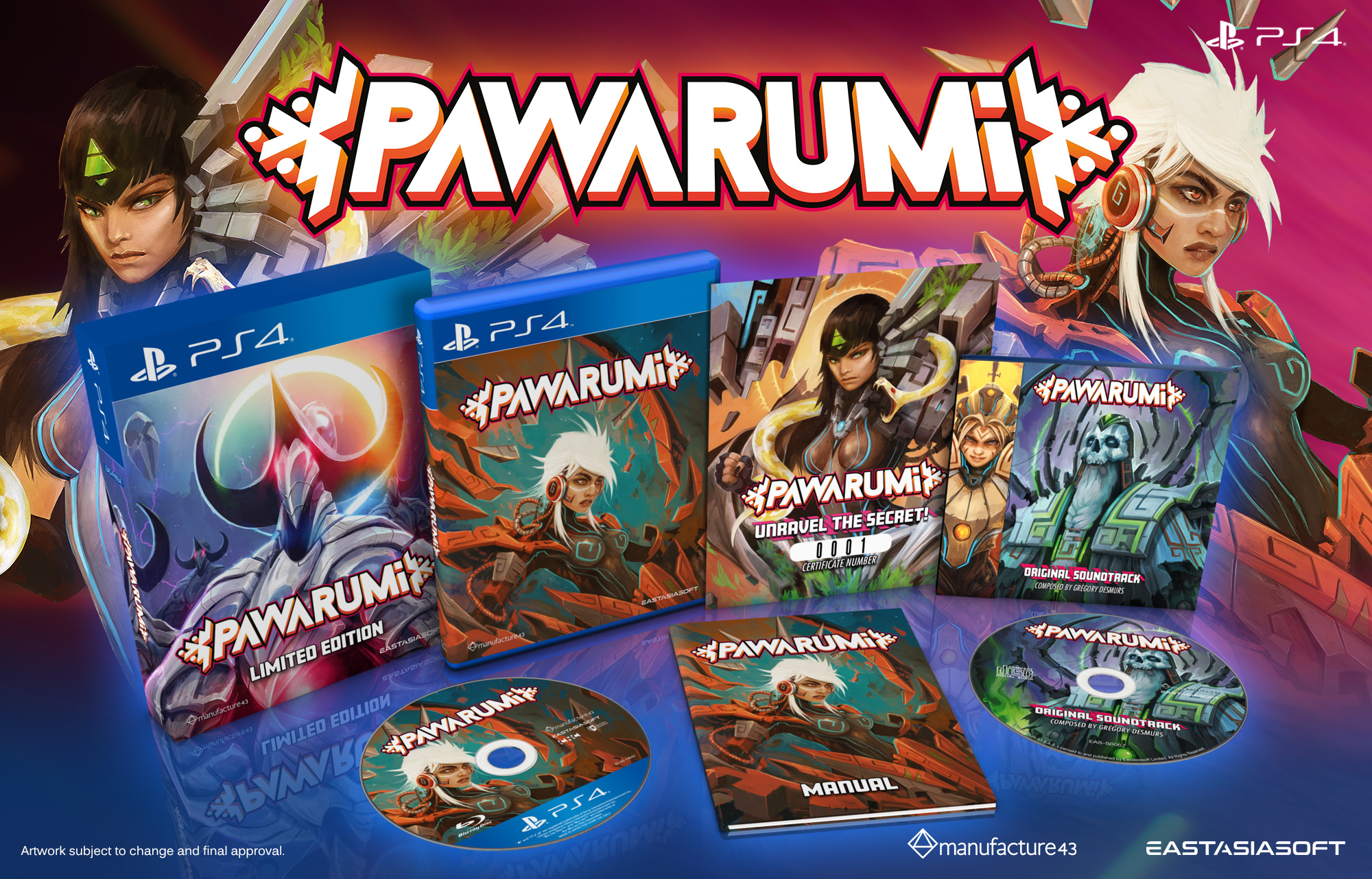 Eastasiasoft will also publish Pawarumi for PS4™ digitally in Asia and Japan in 2020, with more details to be announced soon. Digital publishing in the west will be handled by Manufacture 43. Pawarumi is also available digitally on Steam, Nintendo Switch and Xbox One.
Pawarumi for PS4™ will be playable in English, French, German, Spanish, Italian, Portuguese, Russian, Japanese, Chinese (Traditional/Simplified) and Korean.
For more information on Pawarumi, visit:
About Pawarumi
In a world where the Council rules the nations with an iron fist, you play as Axo, pilot of the legendary ship Chukaru. Experience her fight with the limitless armies of the Council, become the master of Chukaru's power and find the true meaning behind all your actions. A dark secret is yet to be revealed!
Pawarumi is a modern shoot'em up set in a retro futuristic sci-fi pre-Columbian universe. You'll take control of the almighty ship Chukaru and its three unique weapons! Shoot wisely to either do double damage, heal yourself or charge your Super Attack!

Features:
Unique Artistic Direction: Set in a unique pre-Columbian inspired sci-fi universe!
Presented in full 3D: Allowing glorious cinematic staging!
Five Unique Levels: All around the world and inspired by classics from 1990s pop culture!
Three Different Difficulty Levels: Each with a different story ending!
Trinity Game Mechanic: Three fused mechanics that enable infinite strategies!
Weapon Mastery Scoring System: Build up your own scoring strategy with careful weapon juggling. Are you ready to challenge the top of the leaderboard?
Dynamic Layered Music: Awesome Peruvian electro-metal soundtrack!
About eastasiasoft
Eastasiasoft Limited is an independent, Hong Kong–based developer and publisher of interactive entertainment specializing in video games and related media. Founded in 2007, eastasiasoft has published a diverse variety of titles in digital and physical format. Eastasiasoft is a licensed PlayStation, Nintendo Switch and Xbox One publisher. Some of eastasiasoft's recently licensed and published games are Ghost Blade HD, Rainbow Skies, Sword & Fairy 6, Reverie, Rainbow Moon, and the Söldner-X franchise.
About Manufacture 43
Based in Bordeaux, France, Manufacture 43 is an indie developer on a mission. Largely self-funded but with notable support from the Centre National du Cinéma, the Région Nouvelle-Aquitaine and a successful Kickstarter Campaign, the team are concentrating on developing Pawarumi for all major platforms.
For media queries, contact eastasiasoft public relations at press@eastasiasoft.com or via Twitter at @eastasiasoft.
###