In partnership with JoyMasher and indie publisher Digerati, we are excited to announce that we will bring the retro-inspired action platformers Oniken: Unstoppable Edition and Odallus: The Dark Call to PlayStation 4 and Nintendo Switch this spring. Both games feature stunning maps to explore, multiple unique enemy types, fast paced action gameplay, and smooth controls.
Watch the latest trailers:
Oniken: Unstoppable Edition and Odallus: The Dark Call will both launch digitally on the PlayStation®Store and Nintendo eShop in Asia and Japan in the second quarter of 2019. Digital versions outside of Asia for PS4™, Nintendo Switch and Xbox One will be published by Digerati.
The physical release of the Oniken + Odallus Collection will be available in limited quantities for Nintendo Switch. All physical editions will be available for pre-order on January 24th, 2019 from online retailer Playasia. Both games will be included on a single cart for the Nintendo Switch. Individual copies of each title will be available on PS4, with an included display box when both PS4™ games are purchased.
PS4 copies of each title will be manufactured to a limit of 1,200 physical copies. Nintendo Switch copies will be available as a Limited or Standard Editions, with a total of 5,000 copies manufactured.
The Oniken + Odallus Limited Edition for Nintendo Switch will contain:
A physical copy of the game (region free)
A full-color printed manual
An original 2 CD soundtrack
An individually numbered collector's certificate
A collector's box (with a beautifully embossed logo)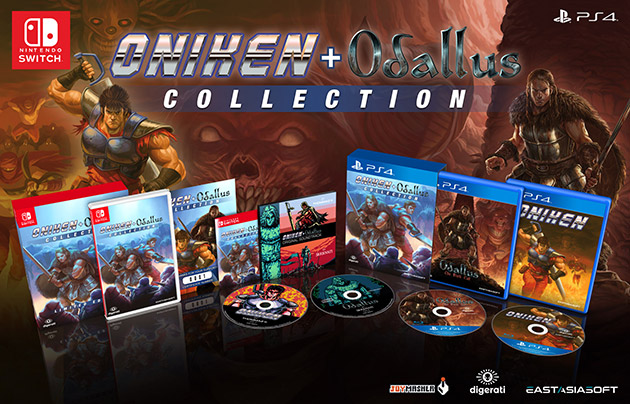 Oniken: Unstoppable Edition and Odallus: The Dark Call have both been localized for the Asian market and are playable in English, Japanese, Traditional Chinese, and Korean languages.