Retro shmup fans rejoice. In partnership with developer NGDEV, we are proud to announce that the single-player vertical scrolling shoot 'em up Fast Striker is coming to PlayStation 4 and PS Vita in October 2018. Fast Striker will also be available in a physical limited edition through Play-Asia.com.
Fast Striker is a fast-paced, reflex action vertical shmup taking cues from 80s classics of the genre to deliver an eyeball searing slice of sci-fi, mechanised action. With a strong emphasis on its elaborate score system, players must blast their way through six sizzling stages, unforgettable boss encounters and over 40 unique enemy types, all at a gorgeous 60 frames per second.
Watch the trailer:
Fast Striker will launch on October 16th (North America), October 17th (Europe) and October 19th (Asia/Japan) for $6.99 / €6.99 /¥880 for PlayStation 4 and PS Vita. The physical release of Fast Striker includes a region free physical copy, full-color printed manual, original soundtrack CD, an individually numbered collector's certificate and a Collector's box, with a beautifully embossed logo. The physical release of Fast Striker will be available in limited quantities from October 11th from online retailer Play-Asia.com at US$34.99 including shipping.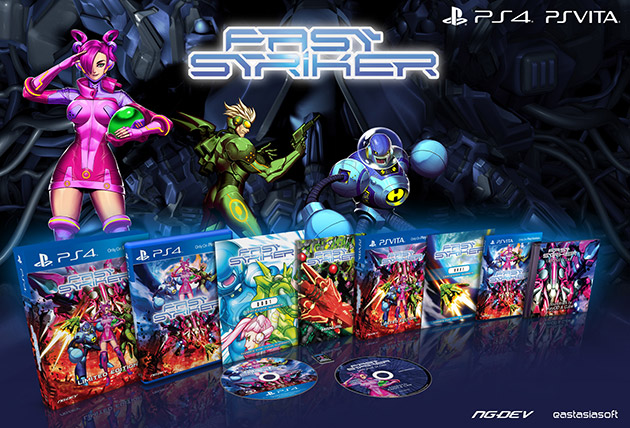 About Fast Striker
Fast Striker is a 2D vertical shoot'em up. Blast through 6 action-packed stages and encounter huge boss battles. 4 game modes, an elaborate scoring system and adjustable screen & control settings will bring back classic arcade memories.
Features:
6 Stages, including huge boss battles
4 Game modes: Novice, Original, Maniac & Omake
Elaborate scoring system
Adjustable screen & control settings
Constant 60 fps