We are proud to reveal that some fan favorite PS Vita games will soon be getting the physical treatment as part of a special Halloween celebration, with preorders opening for all 3 simultaneously at 11pm Hong Kong Time (11am ET / 4pm UK) on Thursday, October 29th. This spooky lineup will include pixel art beat 'em up Kawaii Deathu Desu, retro platformer Halloween Forever, and side-scrolling action adventure Death Tales!
Besides the obvious thematic similarities between these games, we also feel that offering all 3 at the same time would give PS Vita fans a break on shipping, as we intend to have them ship in the same week. To give customers adequate time to prepare, we're announcing these 10 days before preorders open.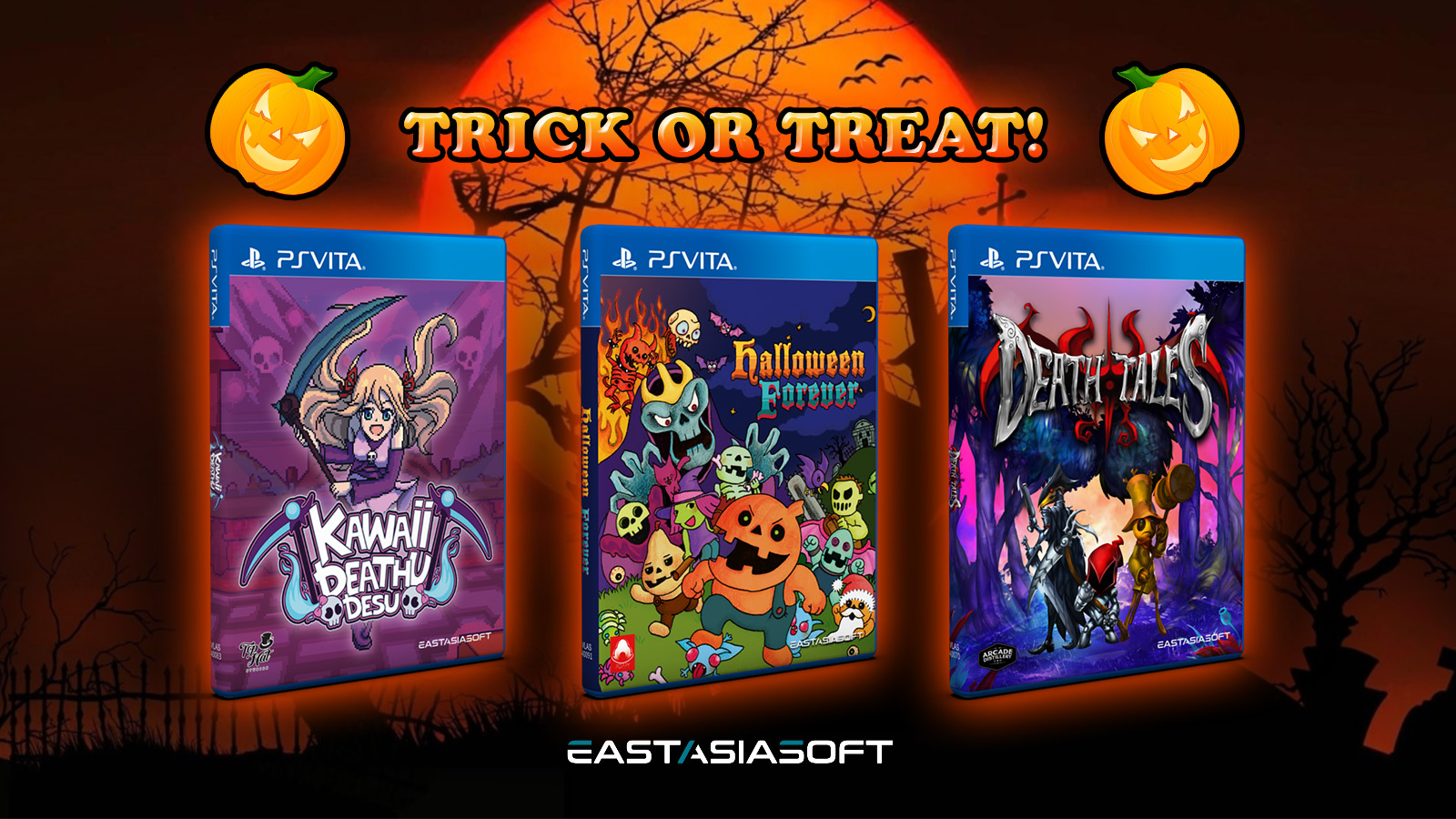 Kawaii Deathu Desu is a simple yet addictive beat 'em up from Pippin Games and Top Hat Studios. Pick your favorite undead idol and reap the souls of your adoring fans as they rush the stage! Control the action with just 2 buttons across international venues with gameplay that's easy to learn but fun to master. Multiple play modes, unlockable costumes and more will keep you coming back for another adorable brawl!
Halloween Forever is a retro platformer by Imaginary Monsters and Poppy Works, created by indie artist and developer Peter Lazarski. Take the role of the Pumpkin Man as he investigates creepy occurrences across 5 unique worlds. Vomit candy corn, face 10 challenging bosses, survive against the undead and unlock hidden playable characters for added replay value!
Death Tales is an action side-scroller from Luc Bernard, presented in his signature style of vibrant yet grim hand-drawn art. Play as a reaper and retrieve the souls of the dying in order to protect them from dark forces in this unique adventure that incorporates RPG elements and platforming gameplay. Death Tales will be a physical exclusive on PS Vita.
Each of these PS Vita Limited Editions will include a game card, manual, soundtrack CD and numbered certificate in a collector's box, priced at US$34.99 and available exclusively from online retail partner Playasia.
Once again, we appreciate all the support we've continued to see for physical PS Vita titles in 2020, and there will be much more to come into 2021.