Hong Kong – November 30, 2020 – Independent developer and publisher, Eastasiasoft Limited and independent developer Lillymo Games announced today that Habroxia 2, the follow-up to Lillymo Games' 2019 space-faring retro style shoot-em-up Habroxia, is coming to PS4, PS Vita, Switch, Xbox One, and PC/Steam on February 3rd!
In the aftermath of a brutal attack on Free Space, humanity sends scout ships to the star system that was at the source of the assault. But when one of the pilots doesn't return home, it's up to his daughter -- the talented starpilot Sabrina -- to find him.
Habroxia 2 is a non-linear, old-school space shooter with upgrades, boss fights, and even New Game+, all wrapped in a retro package combining pixel graphics, chiptunes, and stellar gameplay.
Habroxia 2 will be published on PlayStation®4 and PS Vita by Lillymo Games, and is being ported to and published on other platforms by eastasiasoft. The game will be available digitally with physical preorders going live on December 3rd.
Habroxia 2 Features:
All new narrative driven adventure with ret-con style follow-up to the original
Revamped twin stick control scheme
Epic and enhanced retro inspired soundtrack
Challenging boss battles and customizable ship upgrades

Habroxia 2:

Physical Release:
Pre-orders for PS4/PS Vita physical editions will open on December 3, 2020 11pm Hong Kong (10am ET / 4pm UK) at online retailer Playasia.
Both editions will be priced at US$34.99 + shipping and pre-orders will be open for 4 weeks.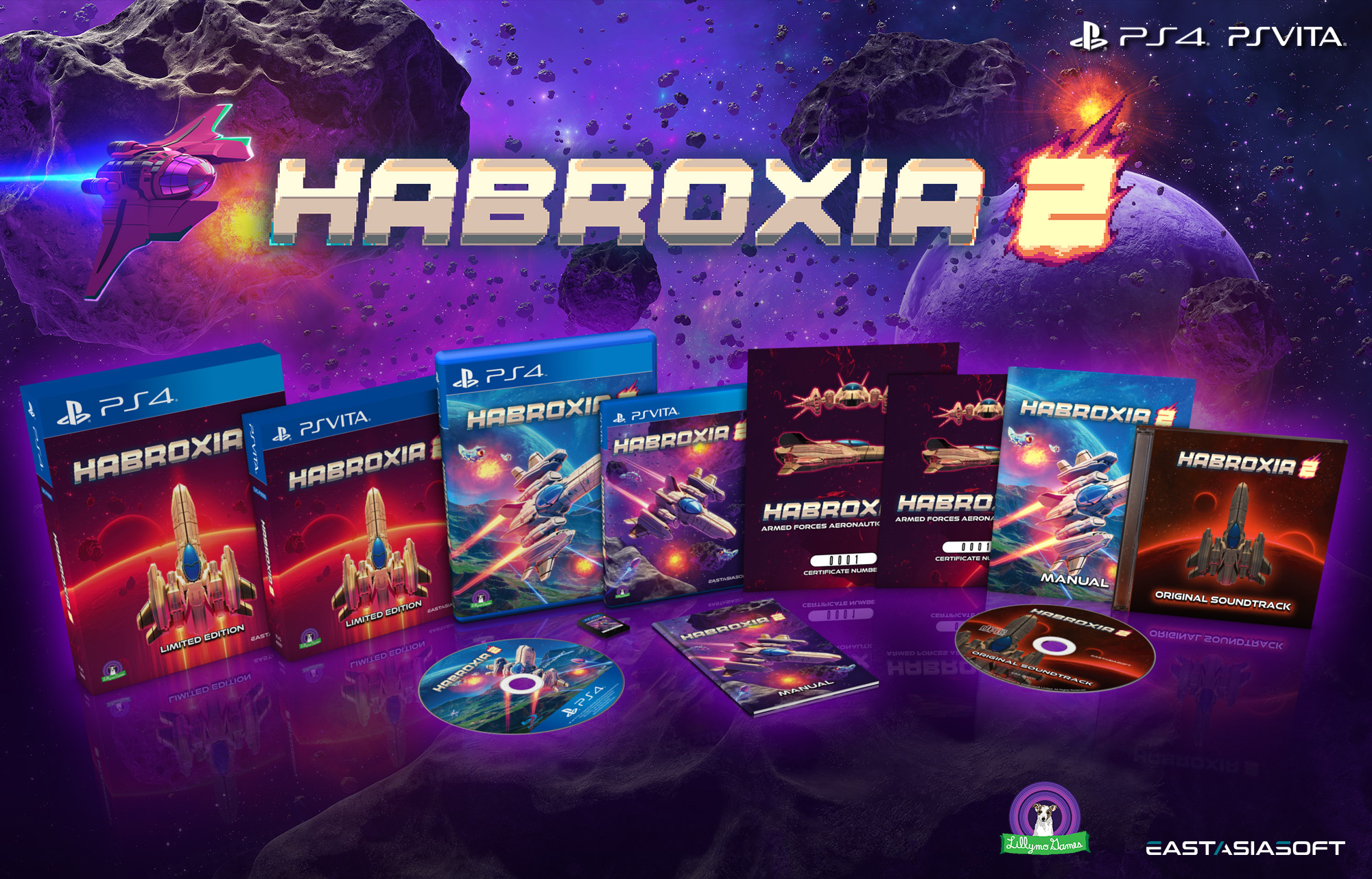 Habroxia Xbox One Release
Alongside this announcement comes the exciting news that Habroxia, the game that started the series, is being brought to Xbox One by eastasiasoft on December 2, 2020.
About eastasiasoft: Eastasiasoft Limited is an independent, Hong Kong–based developer and publisher of interactive entertainment specializing in video games and related media. Founded in 2007, Eastasiasoft has published a diverse variety of titles in digital and physical format. Eastasiasoft is a licensed PlayStation, Nintendo Switch and Xbox One publisher. Some of Eastasiasoft's recently licensed and published games are Moero Crystal H, Ghost Blade HD, Gunlord X, Sword & Fairy 6, Rainbow Skies, Rainbow Moon, and the Söldner-X franchise.
About Lillymo Games: from the creative minds of Barry Johnson and Colin Moriarty, Lillymo Games brings to life challenging yet accessible experiences for both console and handheld gamers. With previous releases Twin Breaker, Perils of Baking, Habroxia and its forthcoming follow up, the studio prides itself on balancing retro style gameplay with engrossing narrative. For more information and trophy guides, visit www.lillymogames.com.
About LambSmith PR: LambSmith PR is a full service video game public relations firm with a focus on independent releases.
For media queries, contact eastasiasoft public relations at press@eastasiasoft.com or via Twitter at @eastasiasoft.