Launching in Asia this summer. Pre-orders available on May 2nd!

For Immediate Release

Hong Kong - April 25, 2019 – Independent developer & publisher Eastasiasoft Limited, alongside Japanese publisher COSEN Co., Ltd., today announced that the fast-paced battle game Panty Party will be the next official limited physical print in eastasiasoft's Nintendo Switch collection.
Panty Party is a third person battle shooter, where players will dash and dodge their way through the world in control of a diverse cast of deadly pairs of sentient underwear! Filled with humour, action, and tons of panty variety to choose from, including different skills and designs, Panty Party never takes itself too seriously while putting the raw power of fan service into the hands of players.
Panty Party will be playable in a wide selection of languages, including English, Japanese, Chinese, Korean, Spanish, French, German, Portuguese, Russian, and others.
The Panty Party physical release for Nintendo Switch will be available to purchase starting May 2nd at online retailer Playasia. Players can look forward to both Standard & Limited Edition releases of Panty Party.
The Limited Edition will be limited to 3,000 copies and available for US$49.99. The Standard Edition will be available for US$29.99.
Panty Party Limited Edition for Nintendo Switch includes:
A physical copy of the game (region free)
Collector's Box with alternative art
Full-color printed manual
Panty Party branded underpants
Panty Party Karaoke Soundtrack CD
Panty Party Character Sticker Set
An individually numbered collector's certificate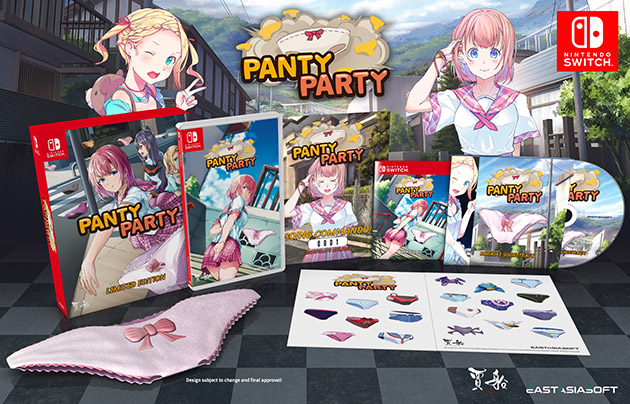 Further information on Panty Party can be found here:

About Panty Party:
"Warning! NO HENTAI contents in this game! All you get is funny and stupid panties!"
As the Warrior of Love, players are the only hope for a human race being transformed into panties with a vengeance! Experience this action comedy full of panties, love and passion - with epic battles between underwear! Fight for what you love on your path to becoming a true panty pro!
In this world, panties are as deadly as they are alluring. Take the time to hone your skills using the variety of characters and abilities. Striped panties, laced panties, elegant and even mystical panties all await you in Panty Party!
Features:
Feel emotions of foolishness and excitement ... with Panty Party!
Energetic dancing music. It is the melody of panties.
Every color imaginable. It is the color of panties.
A powerful story of nonsense brought to you by panties.
For the first time experience the secret thoughts of panties
Multiple battlegrounds & a full collection of unique panties!
Each pair of panties include their own skills and abilities!
About eastasiasoft
Eastasiasoft Limited is an independent, Hong Kong–based developer and publisher of interactive entertainment specializing in video games and related media. Founded in 2007, eastasiasoft has published a diverse variety of titles in digital and physical format. Eastasiasoft is a licensed PlayStation, Nintendo Switch and Xbox One publisher. Some of eastasiasoft's recently licensed and published games are Rainbow Skies, Sword & Fairy 6, Ghost Blade HD, Reverie, Rainbow Moon, and the Söldner-X franchise.
About COSEN Co., Ltd.
COSEN Co.,Ltd. is a video game developer and publisher for Nintendo Switch and PlayStation 4. Like in My Girlfriend is a Mermaid!? for Nintendo Switch, Cosen's games feature ultra popular voice actors which provide the best experiences to gamers and Japanese pop culture fans.
Don't miss the "Okitsune Kohoshitsu" program on our YouTube Channel, and follow us on Twitter @COSEN_NET.
About Playasia
Playasia was established in 2002 and is proud to be the leading independent import and export retailer, specializing in Japanese & Asian video games. By providing outstanding customer experience, a large variety of genuine products, and global fulfillment Playasia has been sending products across the globe for over 15 years.
For media queries, contact eastasiasoft public relations at press@eastasiasoft.com or via Twitter at @eastasiasoft.
###
©Animu Game/HorngYeuan Digital Co.,Ltd Published by COSEN
©COSEN
Retail release licensed to and published by Eastasiasoft Limited.