Available in Asia as digital & physical editions!

For Immediate Release

Hong Kong - January 17, 2019 – Independent developer and publisher, Eastasiasoft Limited, alongside indie publisher Digerati, today announced that they will bring both titles 'Oniken: Unstoppable Edition' and 'Odallus: The Dark Call', retro-inspired action platformers, to the PlayStation®4 computer entertainment system and Nintendo Switch in Asia this spring.
Developed by JoyMasher, both games feature stunning maps to explore, multiple unique enemy types, fast paced action gameplay, and smooth controls.
Watch the latest trailers:

Oniken: Unstoppable Edition and Odallus: The Dark Call will both launch digitally on the PlayStation®Store and Nintendo eShop in Asia and Japan in the second quarter of 2019. Digital versions outside of Asia for PS4™, Nintendo Switch and Xbox One will be published by Digerati.
The physical release of the Oniken + Odallus Collection will be available in limited quantities for Nintendo Switch. All physical editions will be available for pre-order on January 24th, 2019 from online retailer Playasia. Both games will be included on a single cart for the Nintendo Switch. Individual copies of each title will be available on PS4™, with an included display box when both PS4™ games are purchased.
PS4™ copies of each title will be manufactured to a limit of 1,200 physical copies. Nintendo Switch copies will be available as a Limited or Standard Editions, with a total of 5,000 copies manufactured.
The Oniken + Odallus Limited Edition for Nintendo Switch will contain:
A physical copy of the game (region free)
A full-color printed manual
An original 2 CD soundtrack
An individually numbered collector's certificate
A collector's box (with a beautifully embossed logo)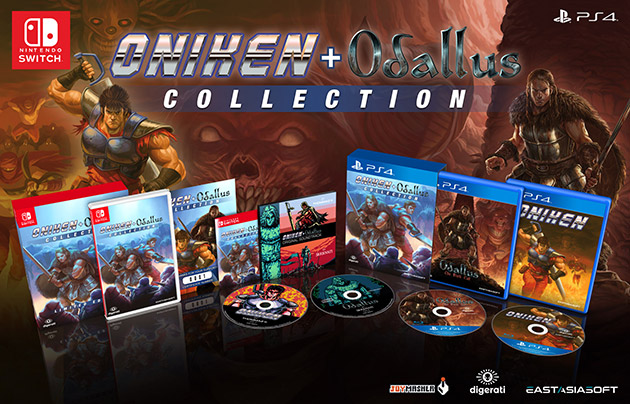 Oniken: Unstoppable Edition and Odallus: The Dark Call have both been localized for the Asian market and are playable in English, Japanese, Traditional Chinese, and Korean languages. More details can be found in the online press kits.

About Oniken: Unstoppable Edition
In a post-apocalyptic future controlled by a sinister corporation, ninja mercenary Zaku is the last hope for humanity. Inspired by the demanding gameplay of 8-bit action/platformers, Oniken: Unstoppable Edition pits your agility and swordplay against a gauntlet of enemies, traps, and challenging bosses.
Features:
8-bit retro inspired pixel art and music
6 difficult missions, plus additional bonus stages
Battle 18+ bosses in the campaign or Boss Rush mode
Single-life Hardcore Mode for a true challenge
Beautiful cinematic cutscenes

About Odallus: The Dark Call
The old gods have forgotten this land...
Odallus: The Dark Call is an exploration and action game, as well as a loving homage to 8-bit genre classics. You will play as Haggis – a battle-weary warrior who must wield his sword once more to rescue his son from Darkness.
Borrowing from many elements of the popular Metroid-vania genre, Odallus tasks players to explore the exciting atmosphere created by well-crafted levels, bosses, and enemy types.
Features:
8 levels open to exploration
Huge bosses
Sharp controls
Rad 8-bit graphics
Thrilling atmosphere
8+ hours of gameplay
50+ enemy types
Veteran Mode
About eastasiasoft
Eastasiasoft Limited is an independent, Hong Kong–based developer and publisher of interactive entertainment specializing in video games and related media. Founded in 2007, eastasiasoft has published a diverse variety of titles in digital and physical format. Eastasiasoft is a licensed PlayStation, Nintendo Switch and Xbox One publisher. Some of eastasiasoft's recently licensed and published games are Rainbow Skies, Ghost Blade HD, Reverie, Rainbow Moon, and the Söldner-X franchise.
About Digerati
As a publisher, Digerati is dedicated to helping independent developers bring their creations to market and into the hands of gamers. We take care of funding, distribution, marketing and production, leaving developers to focus on what they love – making incredible games and unique experiences. https://www.digeratidistribution.com
About JoyMasher
We are JoyMasher and we know retro. JoyMasher have been making good old games for modern players since 2012. During this time, the studio has released Oniken and Odallus and are currently working on Blazing Chrome.
About Playasia
Playasia was established in 2002 and is proud to be the leading independent import and export retailer, specializing in Japanese & Asian video games. By providing outstanding customer experience, a large variety of genuine products, and global fulfillment Playasia has been sending products across the globe for over 15 years.
For media queries, contact eastasiasoft public relations at press@eastasiasoft.com or via Twitter at @eastasiasoft.
###