Launching in Asia September 2018. Pre-orders available on August 30th!

For Immediate Release

Hong Kong - August 23, 2018 – Independent developer & publisher Eastasiasoft Limited, alongside Japanese publisher Kayac and Japanese developer Gulti, today announced that the arcade-style shooter RXN -Raijin-, will be the second official limited physical print in eastasiasoft's Nintendo Switch collection.
Created in part to as a celebration of the Gulti's 10th anniversary, RXN -Raijin- is a vertically scrolling shoot 'em up, inspired by arcade shooters, but designed for the Nintendo Switch – making excellent use of the 16:9 screen when it comes to the beautiful arrays of projectiles & enemies found in the game.
RXN -Raijin- takes heavy gameplay inspiration from the experiences of the Gulti team, having been veterans of the shoot 'em up arcade genre for decades. With main title music composition from the legendary Yuzo Koshiro, of Ancient game development fame, the entire RXN -Raijin- team's cumulative experience has resulted in a beautiful tribute to the genre.
RXN -Raijin- will be playable in English, Japanese, Traditional Chinese, and Simplified Chinese. The physical release will contain all the latest updates and content found on the digital version.
RXN -Raijin- Limited physical release for Nintendo Switch will launch in Asia in September 2018 and will be available at online retailer Play-Asia.com. Players can look forward to both Standard & Limited-Edition releases of RXN -Raijin-.
The Limited Edition will be limited to 3,000 copies and available for US$49.99 / HK$389. The Standard Edition will be available for US$39.99 / HK$310. Online pre-order at retailer Play-Asia.com will open on August 30.
RXN -Raijin- Limited Edition for Nintendo Switch includes:
A physical copy of the game (region free)
Collector's Box with alternative art
Full-color printed manual
48-page full-color artbook
Official Steelbook™ with alternative art
An individually numbered collector's certificate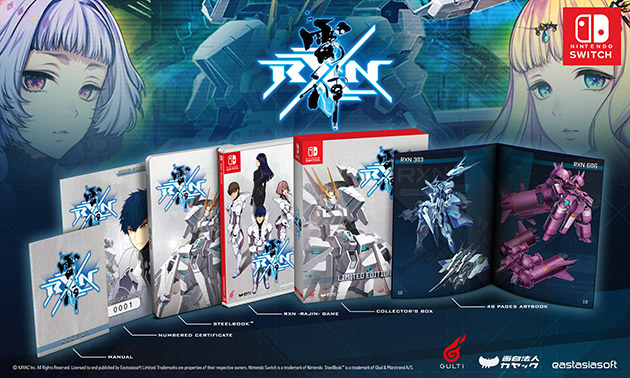 Further information on RXN -Raijin- can be found here:

About RXN -Raijin-:
In celebration of their 10th anniversary Gulti has delivered a title that emphasizes the fundamentals of the shmup genre - shoot, dodge, & destroy. The vertically-scrolling shooter utilizes the entire width of the Nintendo Switch's 16:9 field, resulting in challenging, strategy-testing gameplay.
Enjoy the story elements of the game, featuring a star-studded cast of voice actors in over 50 chapters, some of which have their own unique and alternative paths! With great weapon diversity and four weapon types for each of the three characters, over the course of playing, gamers will learn the most efficient combinations to match their own playstyle!
About eastasiasoft
Eastasiasoft Limited is an independent, Hong Kong–based developer and publisher of interactive entertainment specializing in video games and related media. Founded in 2007, eastasiasoft has published a diverse variety of titles in digital and physical format. Eastasiasoft is a licensed PlayStation, Nintendo Switch and Xbox One publisher. Some of eastasiasoft's recently licensed and published games are Rainbow skies, Ghost Blade HD, Reverie, and the Söldner-X franchise.
About Gulti Co., Ltd.
Our mission is to create the best games to create the best society by 2020. The goal of our heroic engineers, heroic managers, and heroic gamers from all over the world is to create a brand-new generation of heroes.
http://gulti.co.jp/
About Kayac Inc.
Headquartered in Kamakura, the philosophy of Kayac Inc. is to create more creators. Providing web services, and original productions, such as the social game series "Bokura no Koshien" which is played by more than 6 million people, Kayac Inc. has developed a specific app for gamers called "Lobi."
In addition, with its subsidiaries companies such as "Kamakura Jitaku Sougisha", the e-sport company "Wellplayed", the real estate companies "Kamakura R Fudousan" and "Kayac Living", plus the wedding planning company "Pla-Cole", Kayac Inc. has won many prestigious awards in the most renowned events like Cannes Lions International Festival of Creativity, Yahoo!Japan Internet Creative Awards, Japan Media Arts Festival, and many others.
Its unique personnel system (Dice Pay & Smile Pay) and its workstyle make it a very innovative company. From December 2014, Kayac Inc. is listed at the Mothers section of the Tokyo Stock Exchange.
https://www.kayac.com
About Play-Asia.com
Play-Asia.com was established in 2002 and is the leading independent retailer, providing outstanding customer experience, large variety of genuine products and global fulfillment.
For media queries, contact eastasiasoft public relations at press@eastasiasoft.com or via Twitter at @eastasiasoft.
###