Pre-orders available at Play-Asia.com on July 26th!
For Immediate Release
Hong Kong - July 5, 2018 – Independent developer and publisher, Eastasiasoft Limited, alongside acclaimed independent development studio DrinkBox Studios, today announced that the colorful & psychedelic world of the action fantasy Severed for the PlayStation®Vita handheld entertainment system will join the eastasiasoft Limited Edition line-up in August 2018.
In Severed players use swipe-based touch controls with emphasis on timing to solve puzzles, find secrets, and engage in combat with a host of disturbing monsters, including giant floating skull wizards and beasts made of crows.
The Severed Limited Edition will be the ultimate collector's edition for all Severed & PlayStation®Vita fans worldwide. Severed is playable in a number of different languages, including English, French, Spanish, Italian, German, Portuguese, Russian, Traditional Chinese, Simplified Chinese, Japanese, and Korean.
The Severed Limited Edition will be limited to just 3000 copies worldwide and available for US$34.99 (including free shipping), exclusively from online retailer Play-Asia.com. Pre-orders will begin on July 26 at 11pm Hong Kong time and are expected to ship in August 2018.
The Severed Limited Edition will contain the following items:
A physical copy of the game (region free)
A full-color printed manual
An original soundtrack CD
An individually numbered collector's certificate
A collector's box (with a beautifully embossed logo)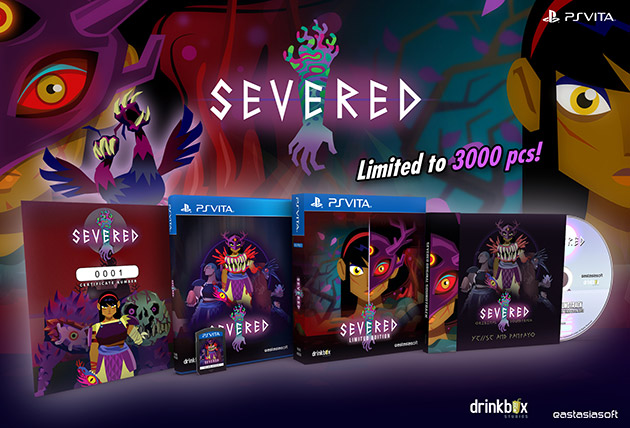 Further information on Severed can be found at:

About Severed
Severed puts players in control of Sasha, a one-armed warrior wielding a living sword on her journey through a nightmarish world in search of her family. During the journey, players unlock new abilities, ascend an RPG-style upgrade tree and uncover the mysteries of the dark fantasy universe Sasha finds herself in.
Features:
DUNGEON COMBAT: Use touch-based combat mechanics with offensive & defensive techniques against a variety of enemies
STYLE: An RPG-light adventure giving players autonomy over upgrade paths
ABILITIES: Gain abilities from Totems—magic armor created from the remains of defeated bosses
SEVERING: Force enemies into vulnerable states, then sever their body parts to upgrade equipment and abilities
EXPLORATION: Choose how to progress through branching routes as you avoid hazards and solve puzzles
MUSIC: Original soundtrack from Juno-nominated band YAMANTAKA//SONIC TITAN and the renowned Pantayo
About eastasiasoft
Eastasiasoft Limited is an independent, Hong Kong–based developer and publisher of interactive entertainment specializing in video games and related media. Founded in 2007, eastasiasoft has published a diverse variety of titles in digital and physical format. Eastasiasoft is a licensed PlayStation, Nintendo Switch and Xbox One publisher. Some of eastasiasoft's recently licensed and published games are Rainbow Skies, Ghost Blade HD, Reverie, Rainbow Moon and the Söldner-X franchise.
About DrinkBox Studios
Founded in 2008, DrinkBox Studios is the independent, Toronto-based video game developer responsible for creating games such as Mutant Blobs Attack! and Guacamelee!
About Play-Asia.com
Play-Asia.com was established in 2002 and is the leading independent retailer, providing outstanding customer experience, large variety of genuine products and global fulfillment.
For media queries, contact eastasiasoft public relations at press@eastasiasoft.com or via Twitter at @eastasiasoft.
###