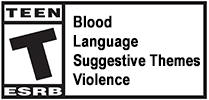 If you crossed a vampire, would you protect humanity or embrace the blood? In Twice Reborn, teaching assistant Mark Delaware becomes a newly turned vampire in a community forced to hide in plain sight. His mentor Michelson has trusted Mark to become the Enforcer, a feared arbiter who keeps the quarreling vampiric houses following the Code.
When arson kills key vampires in the community, it is up to Mark to either embrace his vampirism or find a way to regain his humanity. Interacting with humans and vampires is a delicate balance. Not all appreciate Mark's decision and not all relationships can last. Some want him dead, while others want him for their own. Mark's responses in the perilous community changes their reactions as well as the story's outcome.
Twice Reborn: A Vampire Visual Novel
Follow the horror-themed tale of a teaching assistant turned vampire!

Make key decisions and dialogue choices that directly impact story development.

Explore a narrative that spans a script of over 95,000 words and 20 possible endings!

Meet more than 30 voiced characters.

Unlock CG art in the Extra gallery as you progress!

Platforms:
PS4, PS5, Switch, Xbox One, Xbox Series X|S
Release:
22 February 2023
Genre:
Adventure, Visual Novel
Subtitles:
English, Spanish, Russian, Korean, Simplified Chinese
Developer:
First Step Cinematics, Ratalaika Games
Digital price:
US$14.99 / €14.99
© Eastasiasoft Limited, First Step Cinematics, Ratalaika Games SL. All Rights Reserved.