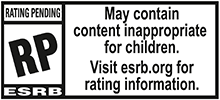 Outnumbered and outgunned in deep space? No problem! Turn your enemies' attacks into pure bullet heaven with your advanced Schildmaid technology and start collecting dangerous projectiles to power up your ship and score big! But when your shield runs out and danger time kicks in, you'd better switch up your strategy fast!
Schildmaid MX is a fresh and frenetic side-scrolling 2D shoot 'em up in which you pick 1 of 3 ferocious fighter spacecraft to wreak havoc on the invasion fleet that threatens your planet. Embark on multiple attack runs and strike fear into the hearts of your enemy. The best pilots are immortalized on the online leaderboards!
Blast off for intense side-scrolling shoot'em up action!

Utilize specialized shield tech to absorb enemy attacks and charge your weapons.

Choose from 3 unique ships to match your preferred play style!

Master risk-vs-reward gameplay mechanics with quick-thinking strategy.

Test your skills against online leaderboards!

Platforms:
PS4, PS5, Switch, Xbox One, Xbox Series X|S
Genre:
Action, Shoot'em Up
Subtitles:
English, German, Dutch, Japanese
Developer:
HitP Studio, eastasiasoft
© Eastasiasoft Limited, ZOO Corporation. All Rights Reserved.