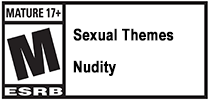 Enter a world of simple pleasures and minimalistic design, where your only goal is to navigate cleverly arranged stages, avoid spikes and locate beautiful female companions hidden in the environment. But beware of hazards! Break a heart three times, and you'll instantly respawn at the beginning, with your lady counter reset to zero. You'll need to touch them all without dying in order to proceed to the next stage and unlock an alluring image for each one you complete.
Platforms in the foreground are silhouetted against lush hand-drawn backdrops. Clouds pass by overhead, trees sway in the breeze and historical architecture dots the landscape as mellow tunes accompany you on a chill quest for love. Your best times are tracked with each playthrough, inviting you to come back and top your own record.
Slide, hop and leap through mazelike platforming stages!
Locate 20 ladies hidden around the environment.
Respawn instantly upon death and retry as many times as you like.
Challenge yourself to get better times on each level!
Unlock an image of a new lady with each stage you clear.
Enjoy a relaxing atmosphere and chill soundtrack.
Release:
19 November 2021
Genre:
Action, Platform, Puzzle
Developer:
eastasiasoft, Nerd Games
Digital price:
US$4.99 / €4.99
© Eastasiasoft Limited, Nerd Games. All Rights Reserved.