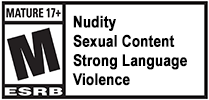 Embark on a journey to rescue an old wizard friend in bara visual novel Burning Secrets! Mixing high fantasy adventure with gay romance themes, Burning Secrets lets you choose between multiple routes as you journey through lush and inspiring landscapes. See the lighthearted narrative to its end while developing relationships and unlock steamy CG scenes along the way.
Advance the story, save and load your narrative progress and enjoy a wide variety of fantasy backdrops. With multiple endings to achieve and alternate romances to explore, there's plenty of reason to keep coming back for more adventure with your handsome companions!
Burning Secrets - A Bara Visual Novel
Embark on a journey to save a friend in peril!

Develop relationships and romance your male companions.

Enjoy varied landscapes and scenic medieval backdrops!

Save, load and unlock CG scenes as you progress through the main tale.

Explore multiple story routes and alternate endings!

Platforms:
PS4, PS5, Switch
Release:
10 November 2023
Genre:
Adventure, Visual Novel
Subtitles:
English, Portuguese, Traditional Chinese, Simplified Chinese
Developer:
eastasiasoft, Male Doll
Digital price:
US$4.99 / €4.99
© Eastasiasoft Limited, Male Doll. All Rights Reserved.