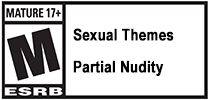 In this naughty version of the tile-matching classic, clearing the board will unlock new outfits for your Pretty Girl companions, all of which can be viewed in a gallery of unlockables. Pretty Girls Mahjong Solitaire is simple but challenging. Match pairs of tiles to make them disappear, but be careful and stay ahead of the clock. Plan your moves strategically so you don't hit a dead end!
Each time you play, tiles are shuffled to keep every session fun and unpredictable. With over 50 layouts and randomized patterns, there's always a reason to come back for more tile-matching and more cute girls!
Pretty Girls Mahjong Solitaire
Match tiles and beat the clock to clear each round.
Reveal new costumes as you progress!
Meet 5 girls, all voiced in Japanese.
View unlocked characters and outfits.
Enjoy unlimited replay value with more than 50 tile patterns!
Platforms:
PS4, PS5, Switch
Genre:
Board, Casual, Puzzle
Subtitles:
English, Japanese
Developer:
eastasiasoft, ZOO Corporation
Digital price:
US$4.99 / €4.99
© Eastasiasoft Limited, ZOO Corporation. All Rights Reserved. Character copyright © Norn / Miel. All Rights Reserved.