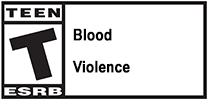 Alan Shaw's daughter is missing, and the only one capable of helping him locate her may be a small mouse named Quintus. Join this odd pairing on their search for answers, using the differences in their size as an advantage.
Quintus and the Absent Truth is a horror-themed adventure told in first-person perspective. Puzzles that Alan and Quintus encounter often require you to work out which character to use for the task at hand. Do you need Alan's height to reach buttons, switches and items that are out of Quintus' reach, or is a hole simply too tight for Alan to fit through? Only by working together can they discover the truth that they seek.
Quintus and the Absent Truth
Experience a narrative-rich horror adventure in first person!

Alternate between man and mouse to navigate riddling environments.

Solve puzzles across 4 main chapters!

Immerse yourself in a unique 3D visual style.

Discover a museum of secrets upon completing the story!

Platforms:
PS4, PS5, Switch, Xbox One, Xbox Series X|S
Developer:
eastasiasoft, Wreck Tangle Games
Digital price:
US$9.99 / €9.99
© Eastasiasoft Limited, Wreck Tangle Games. All Rights Reserved.