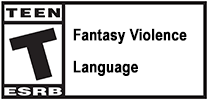 Take the role of a legendary fighter from interstellar samurai squad KR-15, and embark on a mission to free four planets from martial law! In the distant solar system of Infinitium, a clan known only as "Anonymous" has seized control, and it's your duty to locate an informant to gain valuable intelligence on the organization's leader. With high mastery of your katana and shuriken, along with the aid of a robot companion, you have all the tools necessary to eliminate this threat before it spreads across the galaxy!
Wind of Shuriken is an intense action platformer that blends old-school gameplay mechanics with high-definition graphics and hand-crafted stages. Employ the skills of both ninja and samurai as you slice through a wide variety of mechanical and organic enemies, dodge bullets, avoid traps and leap through obstacles along your path. Then blast off for side-scrolling shoot'em up sequences in your flight between planets! Take this mission on solo, or team up with a friend to control your robot companion for a cooperative multiplayer experience!
Fight with mastery of the katana, shuriken and other space samurai weaponry!

Leap and slash through side-scrolling stages packed with unique enemies and hazards.

Experience side-scrolling shoot'em up sequences between planets!

Team up with a friend for local single-screen cooperative play.

Enjoy high-definition graphics and a rocking soundtrack!

Platforms:
PS4, PS5, Switch
Release:
08 September 2022
Genre:
Action, Metroidvania, Platform
Language:
English, Russian
Subtitles:
English, Spanish, German, Russian
Developer:
Gamenergy Studio, Ratalaika Games
Digital price:
US$7.99 / €7.99
© Eastasiasoft Limited, Gamenergy Studio, Ratalaika Games SL. All Rights Reserved.