We are extremely excited to announce that the highly re-playable road-trip adventure Death Road to Canada, developed by Rocketcat Games and published on consoles by UKIYO Publishing, will be available as physical edition this summer.
Death Road to Canada is a chaotic mixture of zombie survival and the Oregon Trail, wrapped up in an action-packed rogue-like adventure! Each time you start a new adventure on the Death Road everything is randomized: locations, events, survivors, items making your crazy new story unique to you! Hack, shoot, or burn your way through hordes of zombies on your way to the safety of Canada!
Watch the trailer:
The physical release of Death Road to Canada will be available for Nintendo Switch and PlayStation 4. The PS4 version will be available as a Limited Edition ($34.99) and the Nintendo Switch version will be available as a Standard Edition ($29.99) or Limited Edition ($39.99). Pre-orders will be available from March 21 from online retailer Playasia.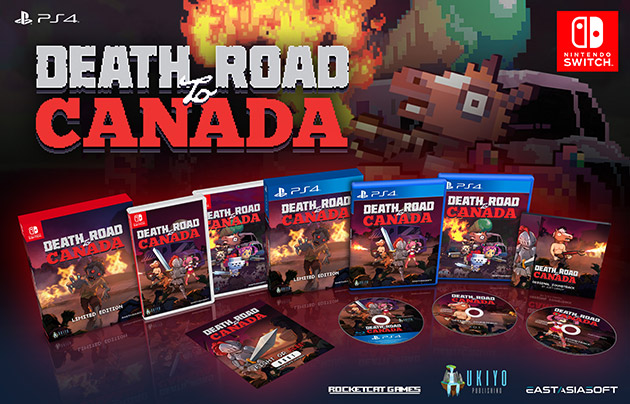 The Death Road to Canada Limited Edition will contain:
A physical copy of the game (region free)
A full-color printed manual
An original 2CD soundtrack
An individually numbered collector's certificate
A collector's box (with a beautifully embossed logo)
Furthermore, we will publish Death Road to Canada for PS4 digitally on the PlayStation Store in Asia in June 2019. Further details will be revealed shortly.
About Death Road to Canada
Control a car full of jerks as they explore cities, recruit weird people, rescue dogs, argue, and face gigantic swarms of slow zombies. Randomly generated for a new story and rare events every time you play!
Death Road is built for replay value. Everything is randomized: locations, events, survivor appearances and personalities. There's a different story every time you play, set in a world that doesn't take itself too seriously.
Features:
Up to 500 zombies can hunt you down at a time. Fight them, squirm past, or run.
Use the character creator to put yourself, friends, and family in the game.
Find special and rare events, weapons, and characters with strange abilities.
Make tough choices in Interactive Fiction events. Get different options and results based on party member traits.
Tell people to "Cool it."
Teach a dog how to drive a car.
4 player local co-op and control up to 4 characters!