We are excited to team up with 2Awesome Studio to launch a PS4 Limited Edition of their split-screen shoot'em up Dimension Drive this month.
Limited to just 2000pcs worldwide, the Dimension Drive Limited Edition box set contains a region free copy of the game, manual, soundtrack CD, individually numbered certificate and collector's box. The game will be sold online exclusively at Play-Asia.com. For more details, visit play-asia.com/info/exclusives.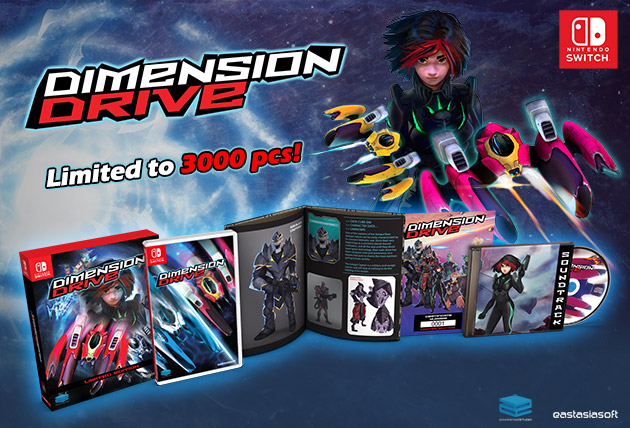 Dimension Drive is a space shooter that challenges your skills in entirely new ways. The title challenges players to navigate two shmups at once with dual battlefield gameplay madness set in a comic book universe! Teleport across the screen, and universes, to optimize your gameplay - seamlessly combining both puzzle & shooting mechanics as both enemies & obstacles try to stop you!
The Ashajuls, a cruel multidimensional alien race, are attacking our universe. Fight as Jackelyne Tywood (a.k.a. Jack) in The Manticore, a legendary ship capable of teleporting across space and dimensions. Uncover the mysteries of your past and the origin of the Dimension Drives with your trusty friend and A.I., "V.E.R.A.", at your side.
2Awesome Studio, the developers behind Dimension Drive, have created an exciting new take on the classic vertical shoot 'em up genre, complete with new gameplay mechanics that will leave players wanting more. With four different difficulty settings, new game plus, and local co-op Dimension Drive offers hours of replayable fun as you take on bigger and better challenges.