Pre-orders available at Play-Asia.com on June 7th!
For Immediate Release
Hong Kong - June 1, 2018 – Independent developer and publisher, Eastasiasoft Limited, alongside development studio EXOR Studios, today announced that the highly-acclaimed twin-stick shooter and tower defense hybrid X-Morph: Defense for the PlayStation®4 computer entertainment system will join the eastasiasoft Limited Edition line-up in June 2018.
Players can look forward to an unprecedented destruction of fully dynamic environments that provides a never before seen level of tower defense freedom. The physical release contains all the latest updates, including the popular Survival Mode as well as the recently released 'European Assault' DLC on disc.
European Assault is a mini-campaign that takes place parallel to the main story and will see players wreak havoc across Finland and Holland before concluding in an epic, destruction-fueled showdown at the Eiffel Tower in France.
The X-Morph PS4™ Limited Edition will be the ultimate collector's edition for all X-Morph: Defense, shoot'em up and tower defense fans. X-Morph: Defense is playable in 12 different languages, including English, French, Italian, German, Spanish, Portuguese, Polish, Russian, Traditional Chinese, Simplified Chinese, Japanese, and Korean.
The X-Morph: Defense Limited Edition will be limited to just 3000 copies worldwide and available for US$34.99 (including free shipping), exclusively from online retailer Play-Asia.com. Pre-orders will begin on June 7 at 11pm Hong Kong time and are expected to ship during the same month.
The X-Morph: Defense Limited Edition will contain the following items:
A physical copy of the game (region free)
A full-color printed manual
An original soundtrack CD
An individually numbered collector's certificate
A collector's box (with a beautifully embossed logo)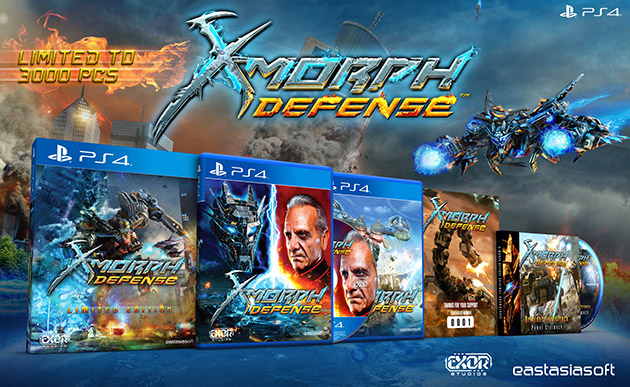 Further information on X-Morph: Defense can be found at:

About X-Morph: Defense
You are the X-Morph - an alien species that invades Earth to harvest its resources and terraform the surface. Strategize in the build mode by carefully selecting various types of alien towers or throw yourself right into the heat of the battle. Build mazes for incoming enemies in an environment that provides exceptional planning freedom. Tear down buildings and collapse bridges to support your defense or to simply indulge in a spectacle of unprecedented destruction. Possess a range of unique alien weapons and use defense strategies like you've never seen before in this genre.
Features:
TOWER DEFENSE
Build your towers anywhere on the map.
Destroy obstacles, collapse buildings and bridges to change enemy paths.
Connect towers with laser fences that block enemy movement.
Smart enemies - there are no predefined enemy paths. Enemies adapt to the changing battlefield and your tower placement, making the challenge a lot more interesting.
Advanced tower types - different kinds of enemies require different defense strategies. Build advanced towers to counter special enemies.

SHOOTER
Don't wait for your enemies - engage them directly with the X-Morph fighter.
Morph into four distinct fighter forms, each one with a different weapon and special ability.

HUMAN MECHA
Fight huge, building size, mechanical war machines. Each boss fight is unique and heavily influences the gameplay environment. Entire cities will be destroyed.

SPLIT SCREEN CO-OP
Fend off the human threat with a friend at your side.

SINGLE PLAYER AND COOP STORY CAMPAIGNS
Take over the Earth by invading locations all around the globe including South Africa, Russia, USA, Japan, China, Britain, Argentina and other countries
Upgrade your towers and abilities throughout the course of the story campaign
The entire story campaign is available in coop mode
Coop missions include additional enemy waves that create a new gameplay experience
Three difficulty modes

TECHNOLOGY
X-Morph: Defense is powered by EXOR Studios' proprietary Schmetterling game engine.
Dynamic building destruction system. Every building in the game can be destroyed piece by piece. Realistic physics simulation makes every destruction scenario unique.
PhysX by NVIDIA.
About eastasiasoft
Eastasiasoft Limited is an independent, Hong Kong–based developer and publisher of interactive entertainment specializing in video games and related media. Founded in 2007, eastasiasoft has published a diverse variety of titles in digital and physical format. Eastasiasoft is a licensed PlayStation, Nintendo Switch and Xbox One publisher. Some of eastasiasoft's recently licensed and published games are Ghost Blade HD, Reverie, Rainbow Moon and the Söldner-X franchise.
About EXOR Studios
EXOR Studios is an independent game development company founded in August 2007 and based in Szczecin, Poland. It is known for its work on the popular zombie smashing hit - Zombie Driver and the award-winning and critically acclaimed Source Engine Mod - D.I.P.R.I.P. It is currently developing games using its proprietary Schmetterling engine.
About Play-Asia.com
Play-Asia.com was established in 2002 and is the leading independent retailer, providing outstanding customer experience, large variety of genuine products and global fulfillment.
For media queries, contact eastasiasoft public relations at press@eastasiasoft.com or via Twitter at @eastasiasoft.
###