For Immediate Release
Hong Kong - December 7, 2017 – Eastasiasoft Limited, the independent developer and publisher of interactive entertainment and publisher Digerati Distribution are excited to bring the remastered version of the Korean horror adventure and cult classic The Coma: Recut to the PlayStation®4 computer entertainment system in Asia in January 2018.
Developed by the South Korean indie studio Devespresso Games, The Coma: Recut tells the story of Youngho, who awakes in a perverse school. After drifting asleep during his final exam, Youngho rouses to find himself trapped in a twisted version of his school, Sehwa High. And he's not alone. Relentlessly pursued by a psychotic killer, Youngho must evade his hunter while desperately searching for a way to escape the dread-filled corridors and classrooms.
The Coma: Recut will launch digitally on the PlayStation®Store in Asia on January 19 for US$14.99, and a physical Limited Edition will also be available exclusively at the online retailer Play-Asia.com for US$29.99. The Limited Edition will contain the following items:
A physical copy of the game (region free)
A full color game manual (64 pages)
An official soundtrack CD
An individually numbered collector's certificate
A collector's box (with a beautifully embossed logo)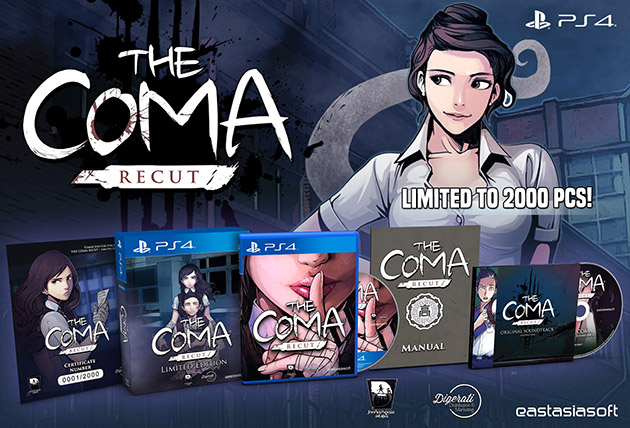 Early pre-orders will additionally include a number of pre-order gifts, including a Sehwa High drink coaster and The Coma: Recut sticker sets. Reservations for the Limited Edition are now open at Play-Asia.com.
Further information on The Coma: Recut can be found on the game's official website and in the press kit. The Coma: Recut launch trailer can be viewed here.
About The Coma: Recut
The good news is your school is about to explode. The bad news is...you're trapped in it with her.
After spending all night studying for the last day of Sehwa High's final exams, Youngho has an eerie dream. The next morning, he arrives to class and learns someone tried to commit suicide at school the night before. Despite this, class goes on!
Youngho drifts to sleep during the final exam to find himself trapped in the school at night. The only problem is...he's not alone. You can run. You can hide. But can you survive while piecing together the nightmarish mystery of Sehwa High?
The Coma is back, recut and remastered. Explore this horror-fest of the Korea indie cult classic with all new mechanics and a stunning visual upgrade.
Features:
Return to the dark corridors of Sehwa High in this remastered version of the hand-illustrated, Korean survival-horror cult classic.
Hide: Crouch in the darkness or cower in a closet to stay out of sight and evade the killer.
Survive: Use your flashlight to search for useful items, but be warned – it can attract unwanted attention.
Mystery: Discover notes and clues to uncover the twisted history of Sehwa High's students and teachers.
Death: Beware the horrors lurking in the dark, lest you bleed out in a forgotten classroom...
Will you survive long enough to piece together the nightmarish mystery of Sehwa High?
About eastasiasoft
Eastasiasoft Limited is an independent, Hong Kong–based developer and publisher of interactive entertainment specializing in video games and related media. Founded in 2007, eastasiasoft has worked on and published titles such as Rainbow Skies, Rainbow Moon, Lost Sea, and the Söldner-X franchise.
About Digerati Distribution
Digerati Distribution & Marketing are specialists in independent PC and console video game PR, Marketing & Distribution. A new breed of publisher providing the versatility and flexibility needed in this modern landscape.
About Devespresso Games
Devespresso Games is an indie game development team fueled by coffee and based in Seoul, South Korea.
About Play-Asia.com
Play-Asia.com was established in 2002 and is the leading independent retailer, providing outstanding customer experience, large variety of genuine products and global fulfillment.
For media queries, contact eastasiasoft public relations at press@eastasiasoft.com or via Twitter at @eastasiasoft.
###