Available digitally for Nintendo Switch, PS4™ & PS Vita and as limited physical edition for PS Vita!

Hong Kong - September 16, 2019 – Independent developer and publisher, Eastasiasoft Limited, today announced that the arcade-style space shooter 'Habroxia' from Canadian developer Lillymo Games will launch worldwide for Nintendo Switch, PlayStation®4 computer entertainment system, and PlayStation®Vita handheld entertainment system this September.
In Habroxia, players blast their way through a myriad of extra-terrestrial incursions. Habroxia features 15 levels with intense boss fights, rescue missions, shifting perspectives and untold surprises. A persistent ship upgrade system, 3 endless side modes, 50 different enemies and 10 unique boss fights will guarantee retro space shooting fun for countless hours.

Habroxia will launch worldwide for Nintendo Switch on the Nintendo eShop on September 26th for US$7.99 / €7.99 / £6.99. Digital pre-orders will open on September 19th with a special 15% launch discount. PlayStation®4 and PS Vita system versions will be available on September 27th. Habroxia for PS4™ and PS Vita will be published by Lillymo Games in North America and Europe on September 24th and 25th respectively. All other versions will be published by eastasiasoft.
A physical Limited Edition of Habroxia for PS Vita will be available for pre-order at online retailer Playasia on September 19th. Limited to just 1500 copies worldwide, the Habroxia Limited Edition will contain the following items:
A physical copy of the game (region free)
A full-color printed manual
An original soundtrack CD
An individually numbered collector's certificate
A collector's box (with a beautifully embossed logo)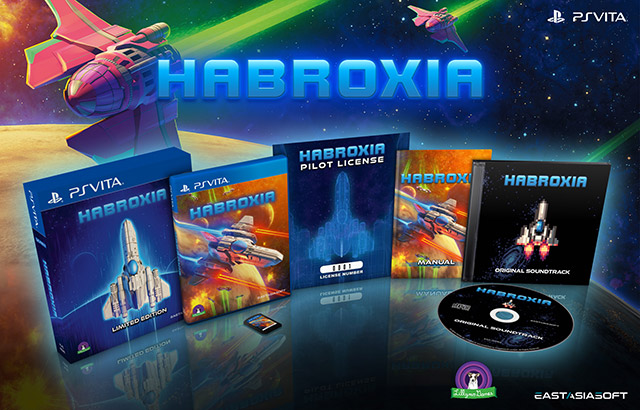 About Habroxia
Blast your way through a myriad of extra-terrestrial incursions in this arcade-style scrolling shooter! Pilot the ship Habroxia through 15 levels featuring intense boss fights, rescue missions, shifting perspectives and untold surprises. Customize your ship to enhance your abilities, unlock the three endless side modes, and save the galaxy from a series of sinister invaders.
Features:
15 Campaign Levels
3 distinct Firing Patterns
Persistent Ship Upgrade System
Over 10 Unique Boss Fights
Over 50 Different Enemy Types with Multiple Iterations
Horizontal and Vertical Levels
3 Endless Side Modes Featuring Distinct Gameplay

About eastasiasoft
Eastasiasoft Limited is an independent, Hong Kong–based developer and publisher of interactive entertainment specializing in video games and related media. Founded in 2007, eastasiasoft has published a diverse variety of titles in digital and physical format. Eastasiasoft is a licensed PlayStation, Nintendo Switch and Xbox One publisher. Some of eastasiasoft's recently licensed and published games are Rainbow Skies, Sword & Fairy 6, Ghost Blade HD, Reverie, Rainbow Moon, and the Söldner-X franchise.
About Lillymo Games
Lillymo Games incorporated is a one-person development studio focused on creating 2D video games with a retro style and feel. Habroxia is the second title from the studio, the first being Perils of Baking. Lillymo Games is based in Ontario, Canada and is run by Barry M. Johnson.
About Playasia
Playasia was established in 2002 and is proud to be the leading independent import and export retailer, specializing in Japanese & Asian video games. By providing outstanding customer experience, a large variety of genuine products, and global fulfillment Playasia has been sending products across the globe for over 15 years.
For media queries, contact eastasiasoft public relations at press@eastasiasoft.com or via Twitter at @eastasiasoft.
###