Hong Kong – December 7, 2020 – Independent developer and publisher, Eastasiasoft Limited, today announced that vertical arcade shoot'em up Project Starship X will release for Nintendo Switch, Xbox One and PS4 on January 27th, 2021.
Blast off for a cosmic Lovecraftian parody in Project Starship X! In this rogue-lite shoot'em up, pilot a star-fighter as Swagthulhu and a diverse cast of other unique pilots. CRASH-KILL your enemies with crazy tactics and absurd power-ups. Using procedural generation to keep you on your toes, this mission will test even the best pilots with its tough-but-fair challenges. Chiptune music and 16-bit graphics get a modern arcade twist in this addictive and over-the-top take on vertical shooter action!
Project Starship X has been developed by Panda Indie Studio and ported to multiple platforms in cooperation with Eastasiasoft Limited. The game will be released digitally in January 2021 for Nintendo Switch, PS4 and Xbox One, priced at US$9.99/€9.99 with an additional 20% launch discount available on select platforms for a limited time.
In addition to the digital release, Project Starship X will also receive a physical Limited Edition for PS4, including the game, manual, soundtrack and numbered certificate in a collector's box for US$34.99 + shipping. Preorders open with online retail partner Playasia in the near future. Only 1000 units will be produced.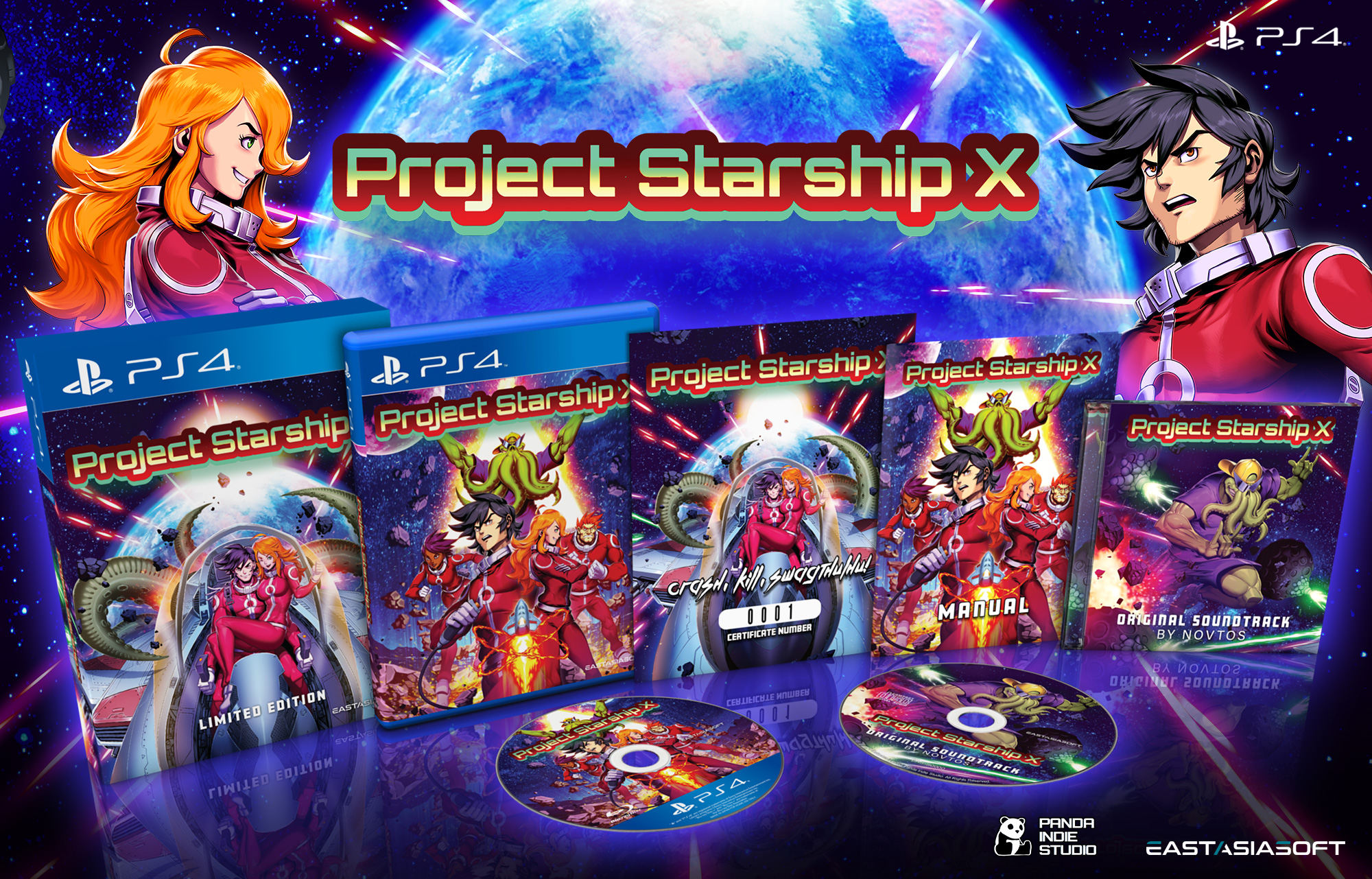 For more information on Project Starship X, visit:
About Project Starship X
Project Starship is back with a wacky take on cosmic horror. In this rogue-lite shooter, you'll take the role of the tentacled-yet-hip Swagthulhu as you CRASH-KILL comical abominations in flashy 16-bit style! With multi-purpose dodge mechanics and tons of crazy pick-ups, you'll be able to crash your ship straight through the enemy and emerge unscathed. Project Starship X celebrates genre conventions by turning them upside-down!
Features:
Discover 14 levels with unique themes, 5 in each playthrough.

Use tank modules, bowling, throwable items, bombs, spoons and more!

Experience Mad Events that remix the action!

Challenge a variety of modes to put your skills to the test.

Enjoy unlimited replay value with procedurally generated elements.

Get in the mood with a pumping soundtrack and screen shake effects!
About eastasiasoft
Eastasiasoft Limited is an independent, Hong Kong–based developer and publisher of interactive entertainment specializing in video games and related media. Founded in 2007, Eastasiasoft has published a diverse variety of titles in digital and physical format. Eastasiasoft is a licensed PlayStation, Nintendo Switch and Xbox One publisher. Some of Eastasiasoft's recently licensed and published games are Moero Crystal H, Ghost Blade HD, Gunlord X, Sword & Fairy 6, Rainbow Skies, Rainbow Moon, and the Söldner-X franchise.
About Panda Indie Studio
Panda Indie Studio is an indie game developer, based in Italy. Their line-up includes arcade inspired shooting games, including Project Starship X, Project Starship, Red Death, Null Drifter and Pity Pit. In partnership with eastasiasoft, Panda Indie Studio is bringing their games to consoles in 2020 and beyond.
For media queries, contact eastasiasoft public relations at press@eastasiasoft.com or via Twitter at @eastasiasoft.