With the release of 2 more entries in the Otoko Cross series fast approaching, it's time to consolidate information on eastasiasoft's original IP to make it as approachable as possible for newcomers! Otoko Cross is a series of puzzle video games designed to celebrate the style and sub-culture of Japanese "otokonoko" crossdressing by combining those rarely explored themes with a wide variety of gameplay mechanics, balancing instant gratification with satisfying progression and unlimited replay value.
The term "otokonoko" by definition refers to male characters with distinctly feminine appearance and behavior, often dressing in feminine clothing by choice rather than coercion. Popular examples of such characters in anime, manga and video games are Fate's Astolfo, Re:Zero's Felix Argyle, High School DxD's Gasper Vladi, PriPara's Leona West, Fire Emblem Fates' Forrest and Guilty Gear's Bridget (at least prior to the latter character's much debated return in Guilty Gear -Strive-). In real life, cosplay has given a boost to the popularity and visibility of crossdressing in modern Japanese society, but even outside of cosplay, there exists a number of venues such as maid cafés, bars and host clubs dedicated to the sub-culture.

The Otoko Cross series is created and directed by Joshua Michael French, developed by eastasiasoft's partner studio in Japan with designs by renowned Asian artist Tommy who specializes in "otokonoko" characters. The first game in the series was Otoko Cross: Pretty Boys Mahjong Solitaire followed soon after by Otoko Cross: Pretty Boys Klondike Solitaire, both debuting in 2022 and offering gameplay mechanics based on tile-matching and classic card-based solitaire respectively. These games introduced the original cast of 5 boys including French butler Jules, American cowboy Quincy, Japanese academy student Haru, British doctor Morgan and Korean boy band star Kyun. Each of these characters have stats and bios viewable from the stage select screen that detail their backstories and how they came to visit or live in Japan, as well as personal reasons for crossdressing in the first place.
Otoko Cross: Pretty Boys Mahjong Solitaire and Klondike Solitaire launched first on Steam, where nude materials were added to the releases. Their subsequent release on consoles was not technically censored but only contained the non-adult content in the manner that they were originally developed, offering a perfect jumping-on point for more players on PS5/PS4 and Nintendo Switch. In recent weeks it has been announced that both games will receive a physical 2-in-1 release exclusively for Switch, published by UK-based Funbox Media Ltd, entitled Otoko Cross: Naked Remix and incorporating the nude content previously added to PC. Otoko Cross: Naked Remix is currently available for pre-order, expected to ship from Funbox Media Ltd and affiliated distribution partners on June 30, 2023.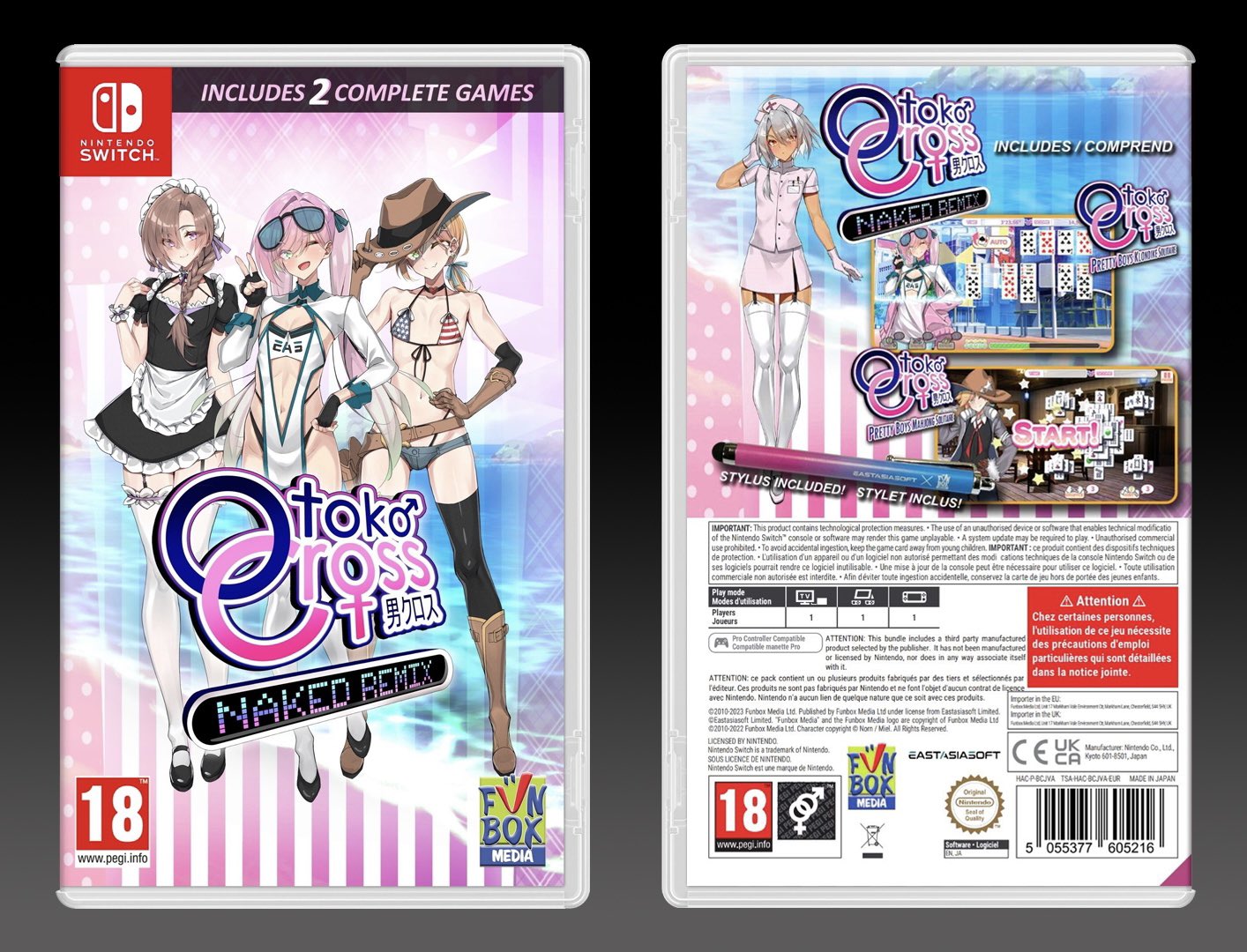 Now 2 new entries are just over the horizon. Otoko Cross: Pretty Boys Breakup! brings brick-busting arcade action to the series, launching on Steam May 4th, while Otoko Cross: Pretty Boys Dropout! is a block-sliding puzzler where the goal is to drop character icons to the bottom of the screen and out an exit while clearing blocks of matching colors, to be released on Steam May 25th. Each game offers an extensive wardrobe of unlockable outfits and other extras, plus an enhanced Dressing Room mode that allows players to create custom dioramas.

Breakup! and Dropout! will also bring in 4 brand new characters including Canadian martial artist Dakota, Brazilian skater boy Faren, Australian police officer Sydney and Chinese airline pilot Bao. The nationalities of these new characters were decided by the 4 countries where the Otoko Cross series has seen the most players aside from those already represented in earlier Mahjong Solitaire and Klondike Solitaire entries. All characters new and old are voiced in Japanese, though as some players have already noticed, most of the foreign [non-Japanese] characters speak with accents according to their nationalities and occasionally use words or phrases from their native tongue. The cast has now grown to a total of 9 boys, as seen below. Both of the upcoming releases can now be wishlisted on Steam.
It is our sincere hope that players across the globe can continue to enjoy the Otoko Cross series, both in its unique "otokonoko" themes and polished casual gameplay offerings. We appreciate the support we've seen for the series so far and love watching its community of fans grow!