Physical Edition Available in Limited Quantities!
For Immediate Release

Hong Kong - January 23, 2019 – Eastasiasoft Limited, the independent developer and publisher of interactive entertainment, and Thailand-based developer Pixel Perfex are excited to launch the underwater side-scrolling shooter Earth Atlantis for the PlayStation®4 computer entertainment system on the PlayStation®Store in Asia on January 25th.
In Earth Atlantis, players must search for, and hunt down, dreadful sea monster and explore a post-apocalyptic underwater world. Travel through ancient ruins and sunken cities. Unlock ships with special weaponry and abilities to aid you on your journey. Are you the ultimate hunter? Earth Atlantis features an inspiring and unique visual style reminiscent of the 14th century ocean exploration.
Watch the Earth Atlantis trailer: https://www.youtube.com/watch?v=0JNoyQIveBY
Earth Atlantis has won numerous awards, including Best In Show (BitSummit Japan) and Excellence in Arts (BIC Festival Korea). It was also the official selection of Tokyo Game Show and Taipei Game Show, and was nominated for the best action game of 2017 by IGN.
Earth Atlantis will launch digitally on the PlayStation®Store in Asia on January 25th for US$14.99 / HK$118 / NT$483. A physical release of Earth Atlantis is also available in limited quantities from online retailer Playasia at US$34.99 including shipping.
Earth Atlantis is playable in English, Korean, Japanese and Thai. Further supported languages include French, German, Spanish, Italian.
For more information, visit Earth Atlantis's official website.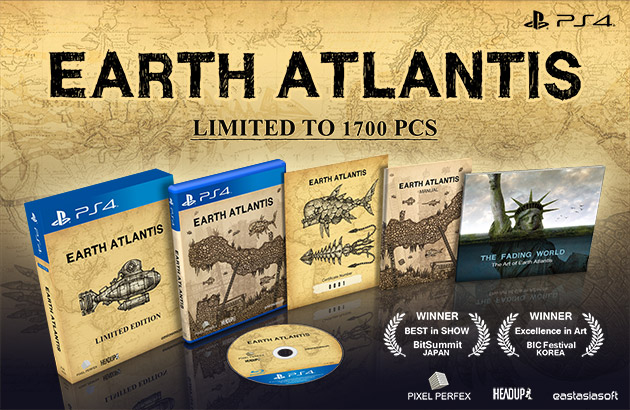 About Earth Atlantis
Earth Atlantis is a side-scrolling shooter with an original "Monster-Hunting" gameplay. Search and hunt down dreadful sea monsters and explore the post-apocalyptic underwater world. Unlock multiple ships with special weapons and abilities for your journey and become a legendary hunter!
The game is presented in a very unique and artistic "Old-Sketching" visual style, which expresses the essence of the 14th century's ocean exploration when the sea was considered a dangerous place full of monsters.
Features:
Original side-scrolling shooter
Slow-paced gameplay. Hunt down dreadful sea creatures
Unique "Old-Sketching" visual style
Two game modes (Quest mode, Hunter mode)
4 playable ships with unique weapons
25 large monsters and 4 enemy ships to hunt with 9 special events to complete
About eastasiasoft
Eastasiasoft Limited is an independent, Hong Kong–based developer and publisher of interactive entertainment specializing in video games and related media. Founded in 2007, eastasiasoft has published a diverse variety of titles in digital and physical format. Eastasiasoft is a licensed PlayStation, Nintendo Switch and Xbox One publisher. Some of eastasiasoft's recently licensed and published games are Rainbow Skies, Ghost Blade HD, Reverie, Rainbow Moon, and the Söldner-X franchise.
About Pixel Perfex
Pixel Perfex is an award-winning independent game developer and design studio with the goal to develop unique and innovative games. More information can be found at www.twitter.com/pixelperfex and www.pixel-perfex.com.
About Playasia
Playasia was established in 2002 and is proud to be the leading independent import and export retailer, specializing in Japanese & Asian video games. By providing outstanding customer experience, a large variety of genuine products, and global fulfillment Playasia has been sending products across the globe for over 15 years.
For media queries, contact eastasiasoft public relations at press@eastasiasoft.com or via Twitter at @eastasiasoft.
###